New Branding Supports Growth Plans at the TRAD Group
The TRAD Group, which commenced trading in 1971, has grown over the years to establish itself as one of the country's leading Scaffolding and Fall Prevention Providers. With an extensive range of services, it offers to its wide range of clients in many different sectors, Traditional Contracting, Equipment Hire and Sales, and Specialist Fall Safety Systems.
With success in its first four decades based principally on a reputation for high-quality work and products, and outstanding levels of customer satisfaction, the TRAD Group is now growing even further with the continued financial support of global giant, Altrad Group.
The TRAD Group became part of the Altrad Group in September 2013, and this is now reflected in its new branding, launching in April. "Even in the depths of the recession, we remained a very strong business," says Des Moore, the TRAD Group's CEO, "But with Altrad Group's involvement and substantial investment of £15 million, we've become even stronger, and the TRAD Group has doubled in size. The new branding reflects this and the Altrad Group's presence in the UK market." The brand redesign will be taking place across the whole Altrad Group – with the exemption of Hertel and Prezioso who will retain their own identity – and will mean that the brand becomes more visually recognisable worldwide, as all business entities will be using an identical core logo going forward.
Sometimes with an acquisition, Companies can lose sight of what made them successful in the first place, but this hasn't been the case with the TRAD Group. The top management team has remained completely intact and the company culture hasn't changed. "The ideals that exist in the Altrad Group management charter are those that have been the heart of our values for the last 40-plus years," says Des.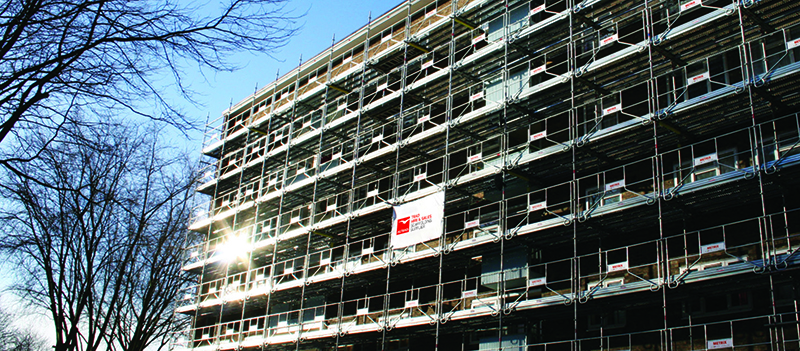 The Altrad Group itself is an astonishing success story. It was founded by Mohed Altrad, who was born a poor Syrian Bedouin, and then moved to France at the age of 17. He invested in a bankrupt scaffolding manufacturer in France in 1985, and went on to develop the Group through acquisitions and organic growth. Now a major player in the construction equipment market and Oil & Gas sectors, with 150 subsidiaries and 22,000 employees worldwide, Altrad has an annual turnover of €2.5 billion. It's this backing that's been such a positive force for the four business entities of the TRAD Group, as they continue their successful progress. Mohed Altrad was named EY Entrepreneur of the World in 2015 and has written three acclaimed novels including his autobiography Badawi, which is on the French National Curriculum. He is also the President of Montpellier Hérault Rugby Club, and the Altrad Group are supporting the French Rugby Association in their bid to host the 2023 World Cup.
"One of our main strengths is that we have a diverse business portfolio serving the construction industry, enabling business opportunities across the Group," explains Des. The initial scaffolding business, now known as TRAD Scaffolding, undertakes projects of any scale, including some of the most important construction developments in London and the South. It maintains significant stock levels of both System Scaffolding and Traditional Scaffolding in three large storage facilities strategically located around the M25, enabling it to carry out many large-scale projects simultaneously. Last year, the TRAD Group acquired MTD Midlands, a scaffolding contractor that primarily works in the social housing sector throughout the Midlands. The business was founded over 20 years ago and currently trades out of three Depots in Oldbury, Telford and Loughborough. They are now looking to move into Commercial, New Build, High-Rise Refurbishment and Public Sectors.
TRAD's Hire and Sales business is one of the UK's leaders for hiring, selling and exporting scaffolding products, as well as complementary services such as design support. It primarily serves other Scaffolding Companies, including some large industrial groups. It's the exclusive UK supplier of Plettac Metrix System Scaffolding, which is very quick to erect and dismantle, and offers additional safety features compared to competing systems. The Safety Systems business is market leader in the Design, Manufacture and Supply of Fall Safety Solutions for the Construction, House Building, Roofing and Maintenance Industries.
The TRAD Group employs over 1,000 people in the UK from 17 locations, with a combined turnover of in excess of £100 million. The aim across the Group now is gradual organic growth, based on introducing new, class-leading products through the Hire and Safety Businesses. "We then introduce these innovative products across the Scaffolding Businesses so our contracting clients see the benefits of the improvements, and receive the most efficient, safest and professional service possible", says Des.
From a personal perspective, Des has recently joined the board of Directors for Build UK – a UK construction organisation which provides a strong collective voice on key industry issues – and is also Director of CISRS, which is the industry recognised Scaffolding Training Scheme. Later on this year, Des will become President of the NASC, which is a tremendous accolade for both the TRAD Group and Altrad Group, and has been attained due to TRAD's outstanding reputation and experience. This respected position will give both TRAD and Altrad an even bigger presence in the industry.
"Altrad invested in a very good business," continues Des, "and their investment and management has enabled us to make it an even stronger business than it was before." It's clear that each of its four business units can look forward to further growth and development in the years to come, while their growing portfolio of customers will continue to enjoy the same high standards of service they have become accustomed to over the past four decades.