We are affiliates, associates or members of a number of organisations whose activities are relevant to our business.

click the logos to see the certificate
ISO 9001:2015 – QUALITY MANAGEMENT SYSTEM
The drive for BSI Accreditations – we have achieved ISO 9001 (Quality) and have been recommended for ISO 14001 (Environment) – enhances our current Policies and Procedures and our SHEQ (Safety, Health, Environment and Quality) aims and objectives.
We believe that the benefits of structured standards and systems, which are regularly monitored and reviewed, help us to identify our strengths and areas for improvement, to enable us to improve Safety, Health, Environment and Quality for the benefit of our people, our clients' people, and the general public.
Visit their website for more information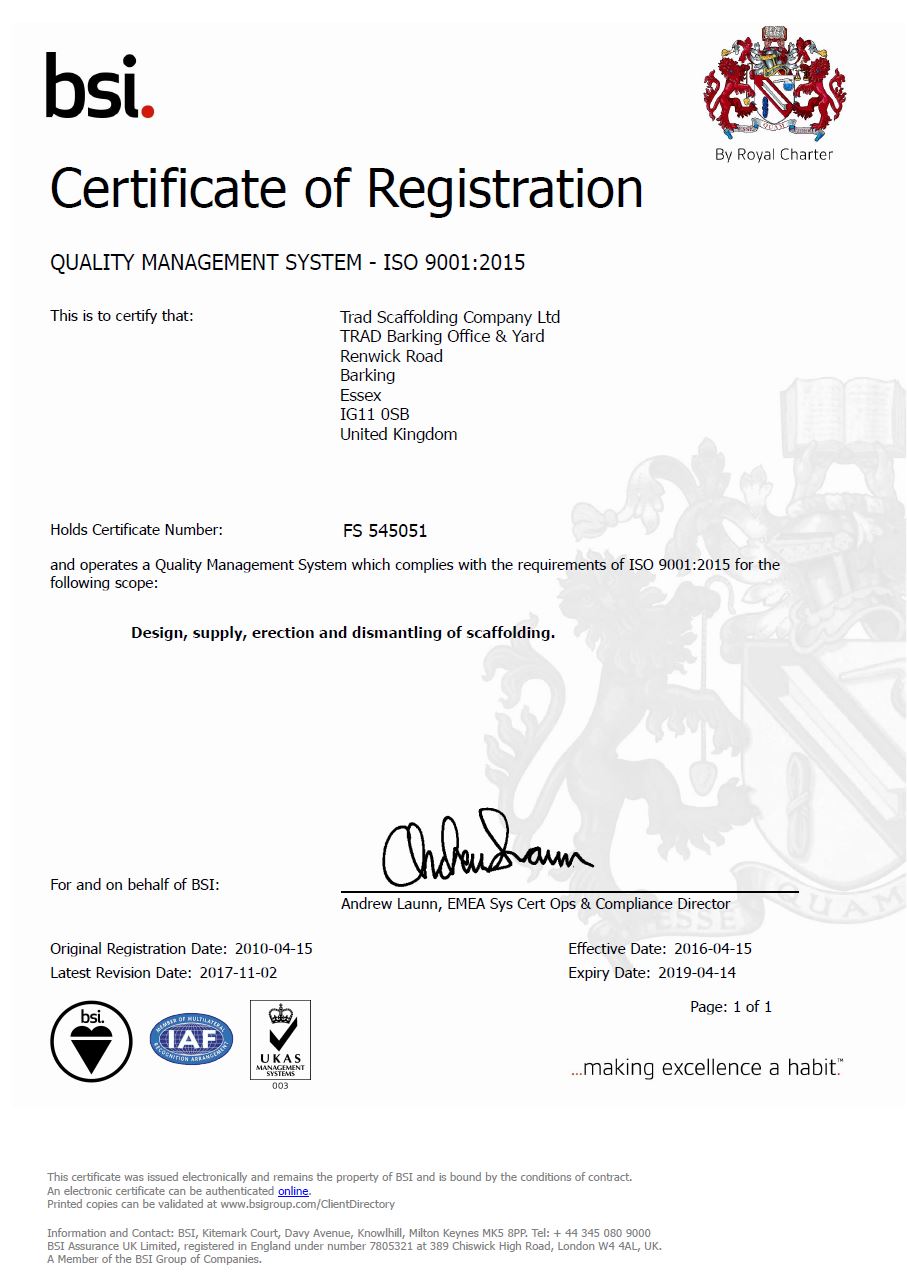 ISO 14001:2004 – ENVIRONMENTAL MANAGEMENT
TRAD have successfully carried out the transition from the old 14001:2004 standard and been accredited, through BSI, to the new 14001 environmental standard: 14001:2015
Visit their website for more information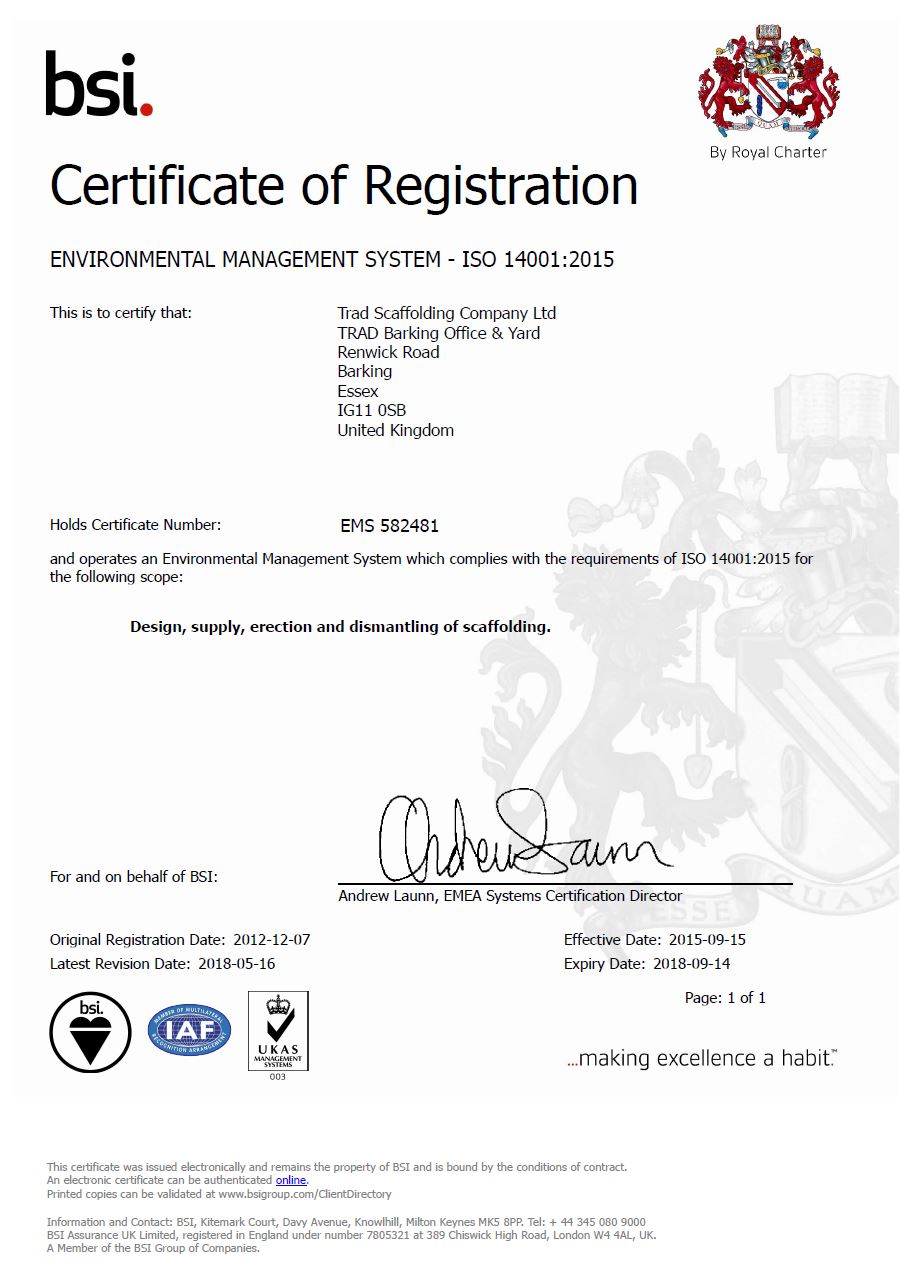 OHSAS 18001:2007 – OCCUPATIONAL HEALTH AND SAFETY
An OHSAS promotes a safe and healthy working environment by providing a framework that allows your organisation to consistently identify and control its health and safety risks, reduce the potential for accidents, aid legislative compliance and improve overall performance.
The standard has been updated to BS OHSAS 18001:2007 to parallel ISO 14001 and ISO 9000 for more consistency and to enable easier integration of environment, quality and health and safety management systems into one.
Visit their website for more information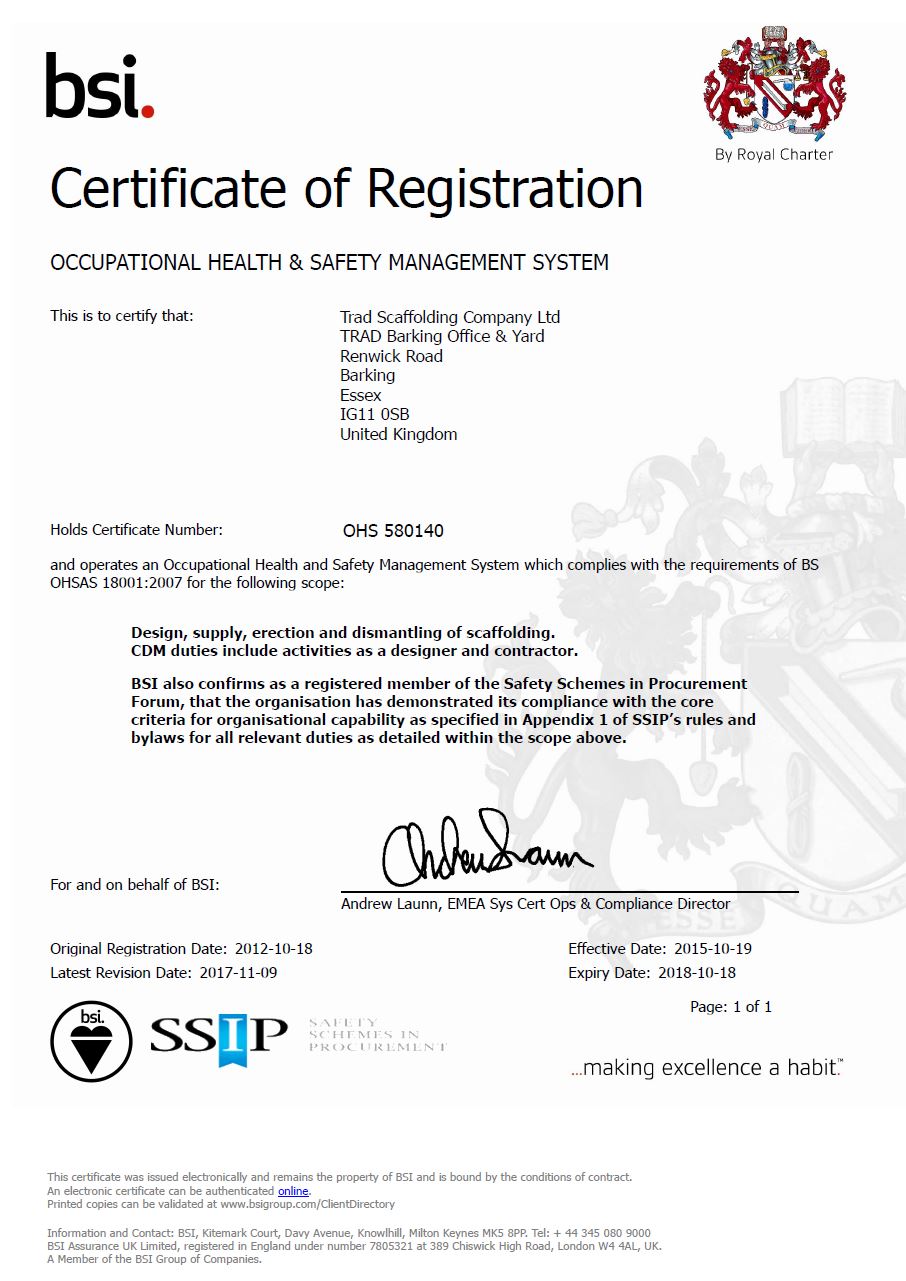 Achilles utilities vendor database (uvd)
The Utilities Vendor Database (UVDB) is operated as a 'qualification system' under article 30 of the EC Utility Directives. Information is gathered about suppliers, e.g. financial performance, health, safety, environmental policy, CSR, products and services data and is checked that it is up-to-date and accurate, and then made available on-line to the buyer.
Visit their website for more information
Achilles building confidence
BuildingConfidence is recognised as the standard for supplier excellence within the industry. Major contractors are using the service to evaluate their supply chains, drive up performance and forge longer lasting relationships with key suppliers.
Visit their website for more information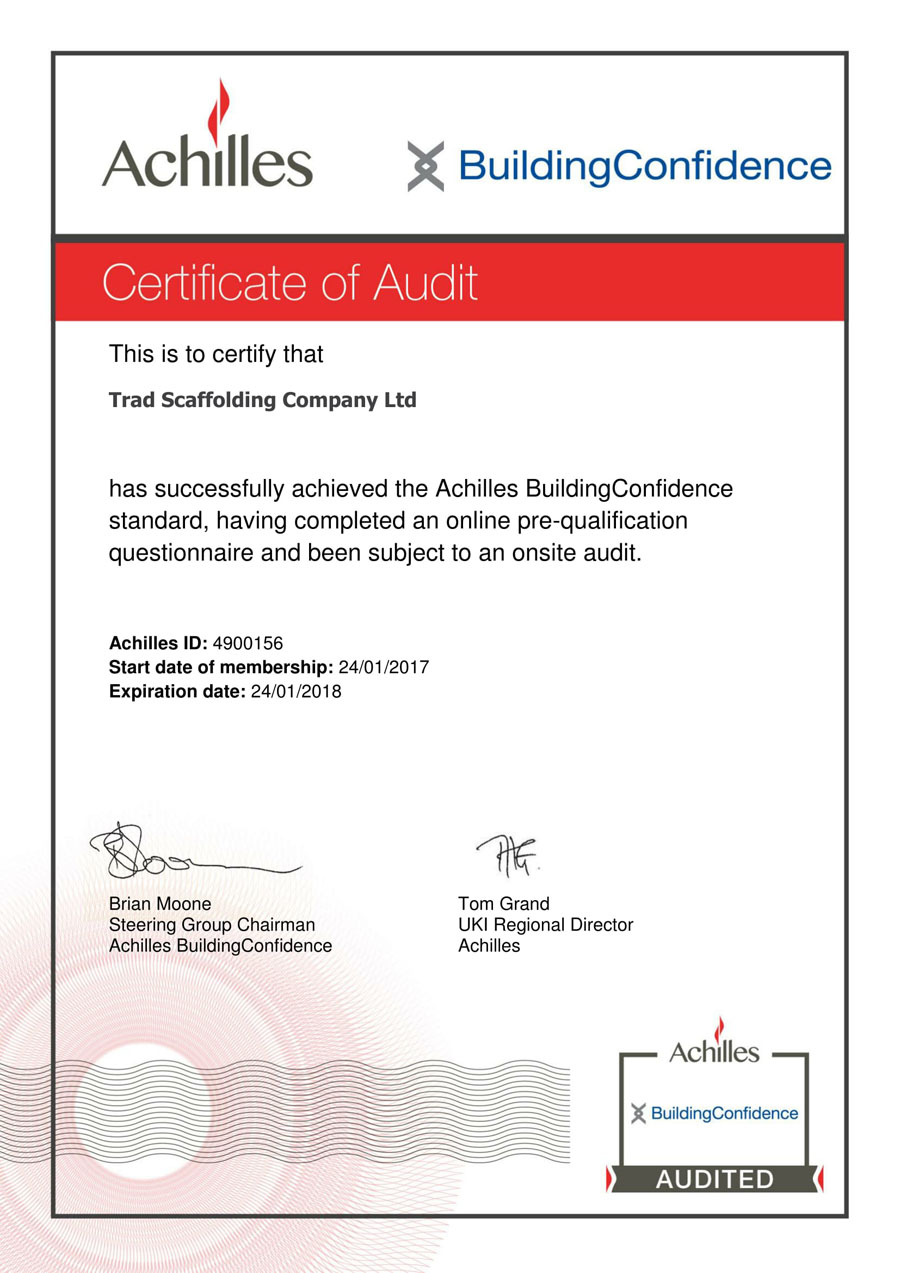 RISQS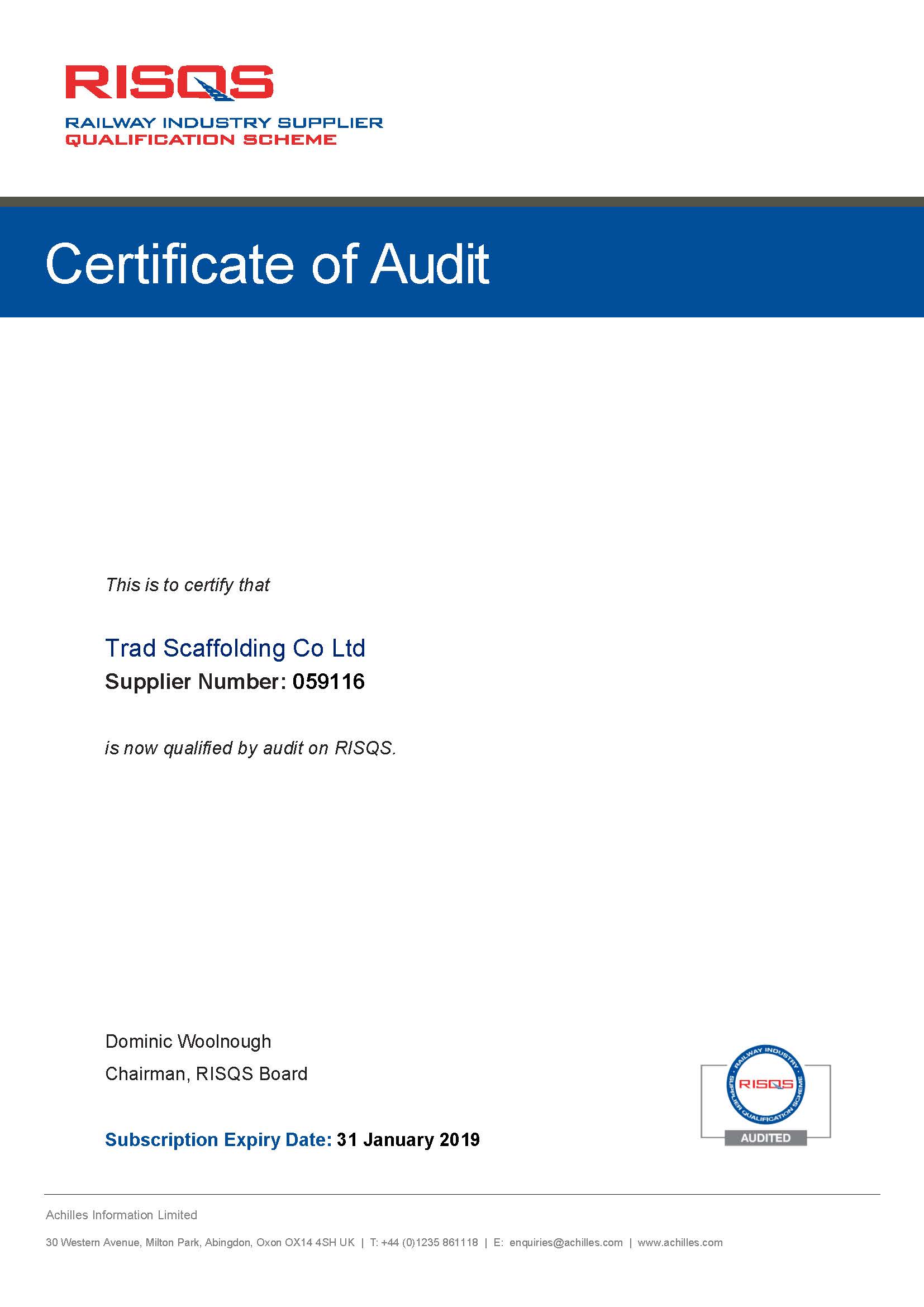 TFL freight operator recognition scheme (fors) silver accreditation
TfL's Freight Operator Recognition Scheme (FORS) is one of the four key freight projects in the London Freight Plan, which was published in January 2008. It is a free membership scheme for any company operating vans or lorries in London that helps freight companies to become safer, lawful, more efficient and more environmentally-friendly.
Visit their website for more information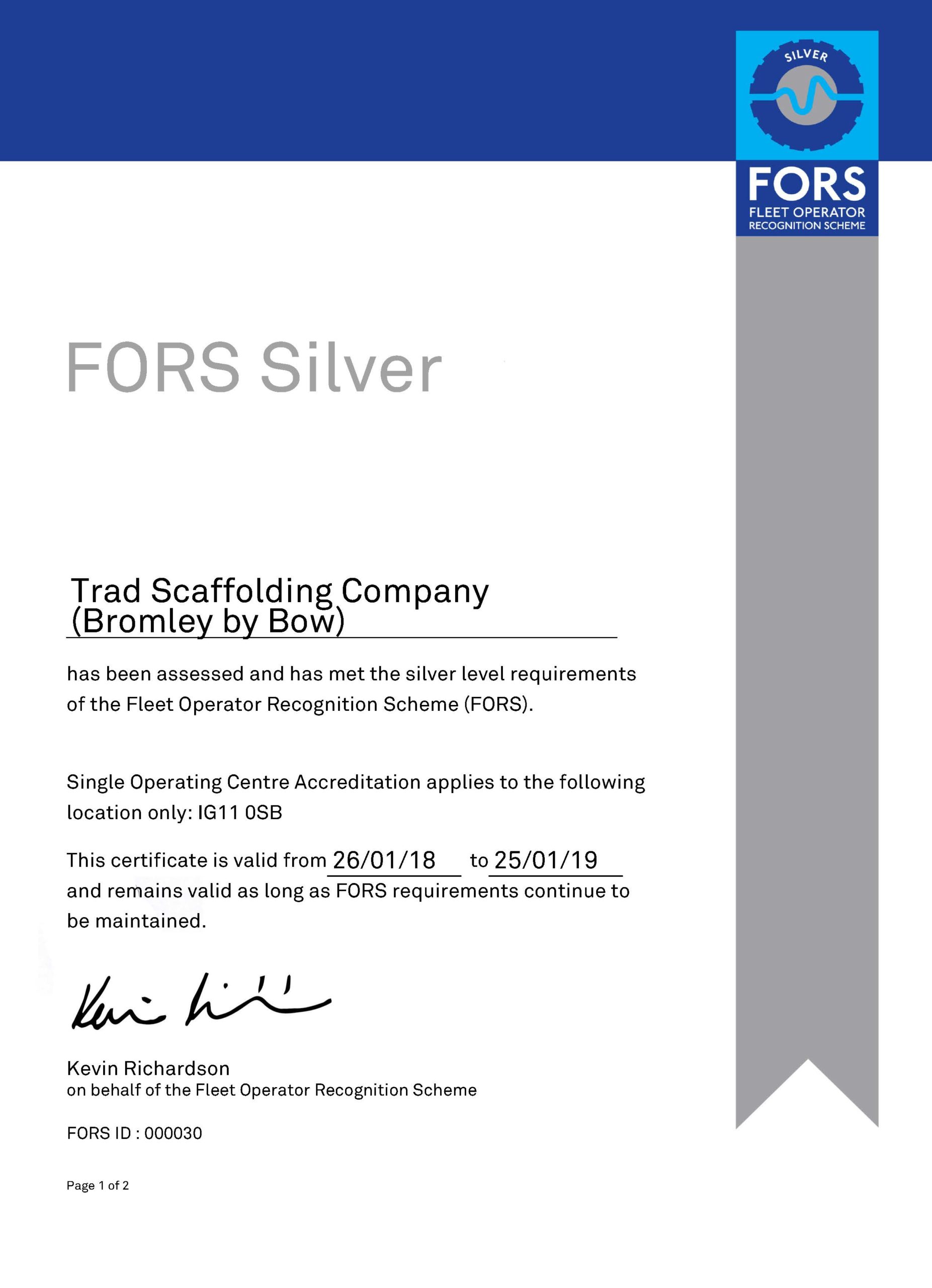 Constructionline
Constructionline is the UK's largest Government-owned register of contractors and consultants for the construction industry. Constructionline standards are high, all suppliers are pre-qualified to the official Government pre-qualified standard.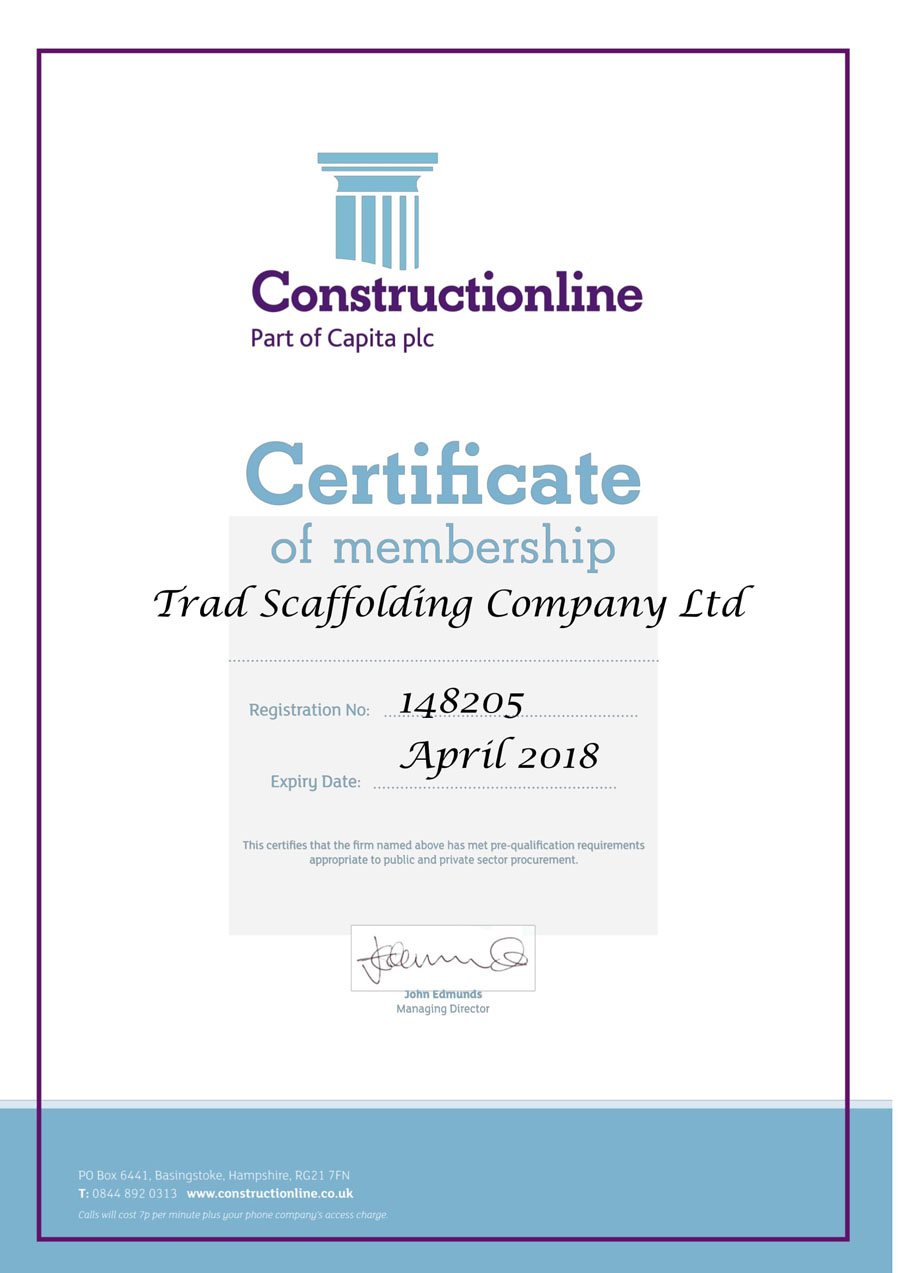 Safecontractor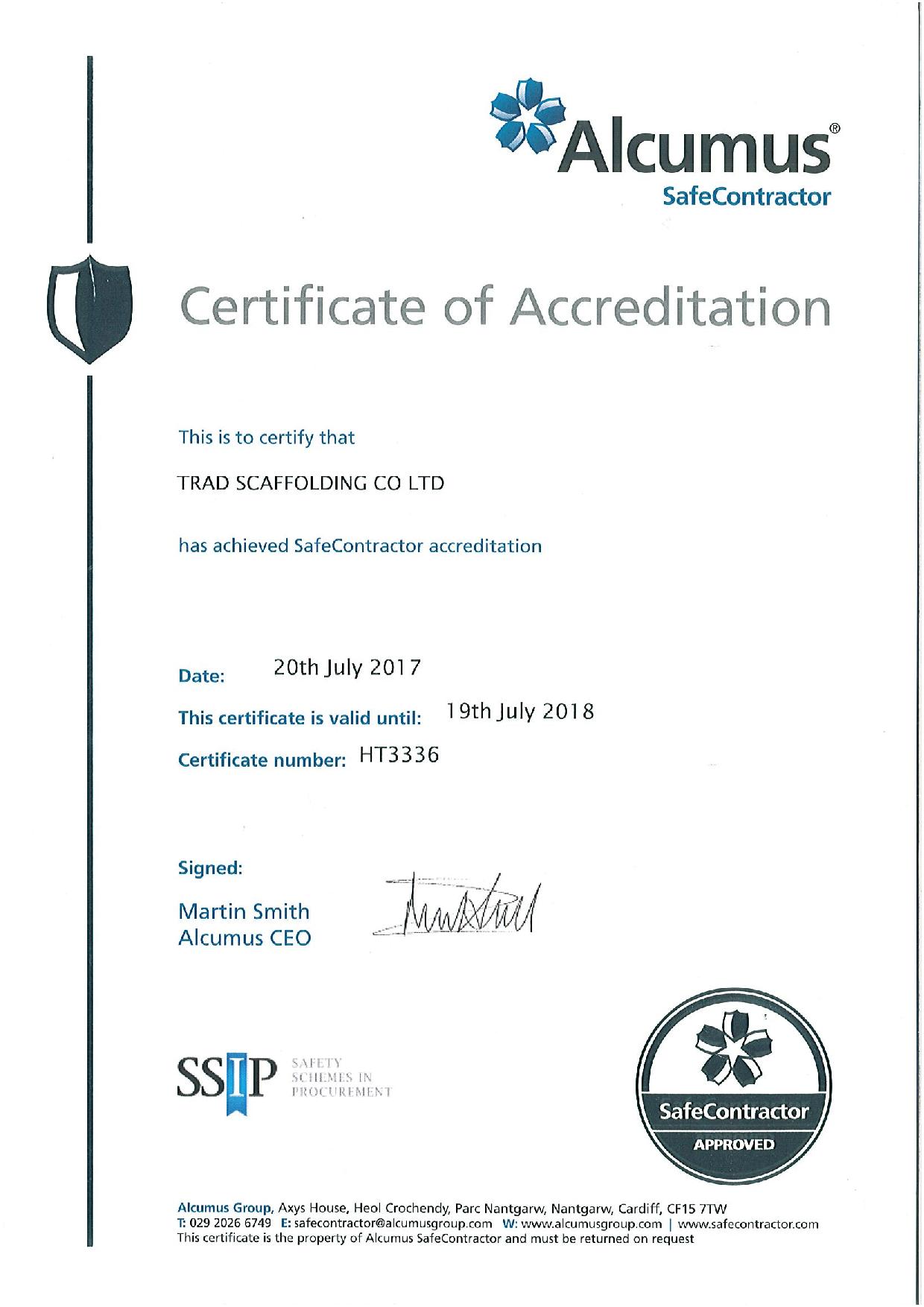 Freight transport association
FTA is one of the UK's largest trade associations and represents the transport interests of companies moving goods by road, rail, sea and air. Boasting a rich heritage, FTA has been supporting the interests of the transport industry since 1889.
Visit their website for more information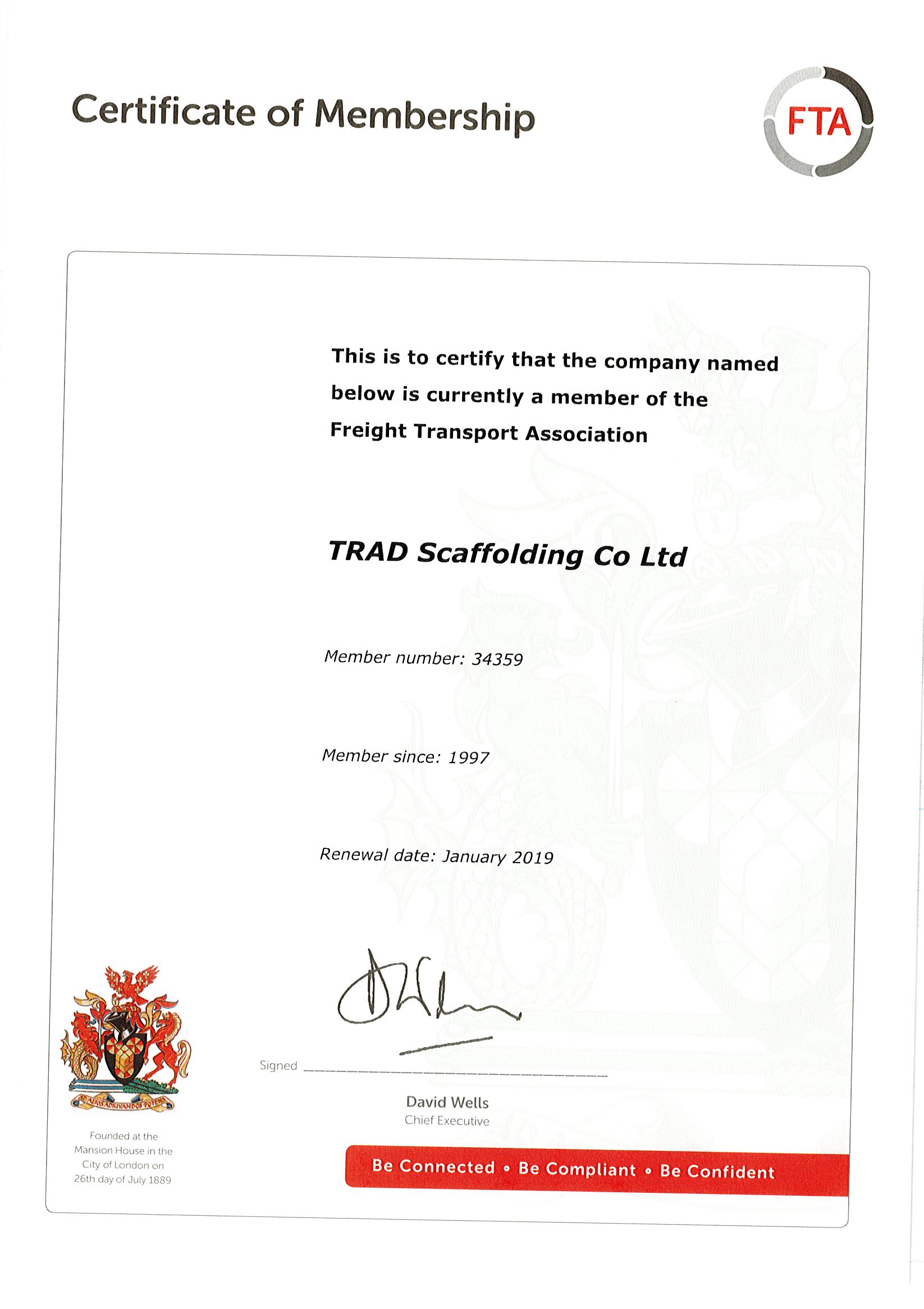 CHAS
CHAS is established as the market leader for health and safety pre-qualification in the UK. It is available to suppliers (those who provide goods and services) and to organisations (buyers) looking for suitably competent suppliers.
Visit their website for more information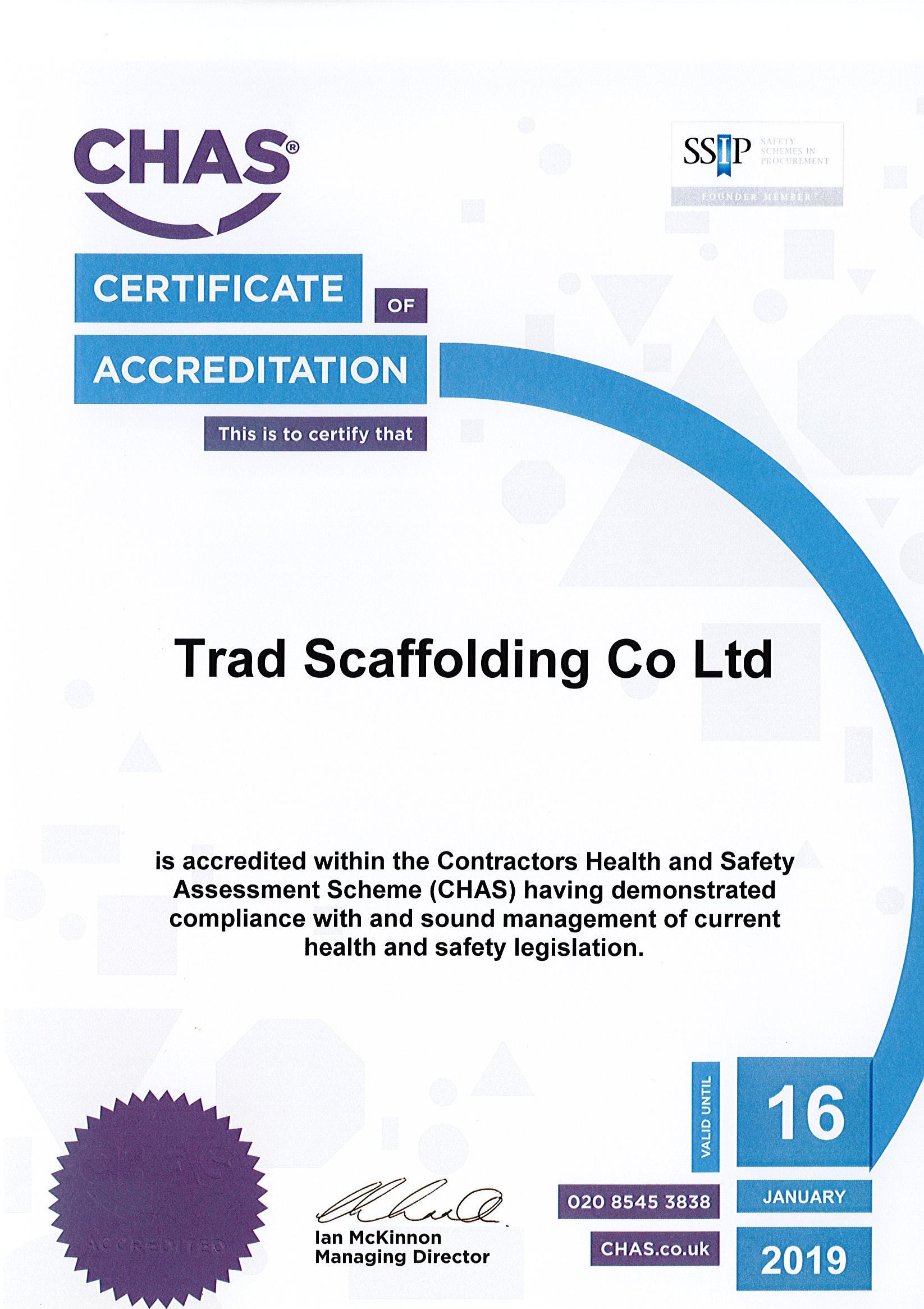 Construction health and safety group (CHSG)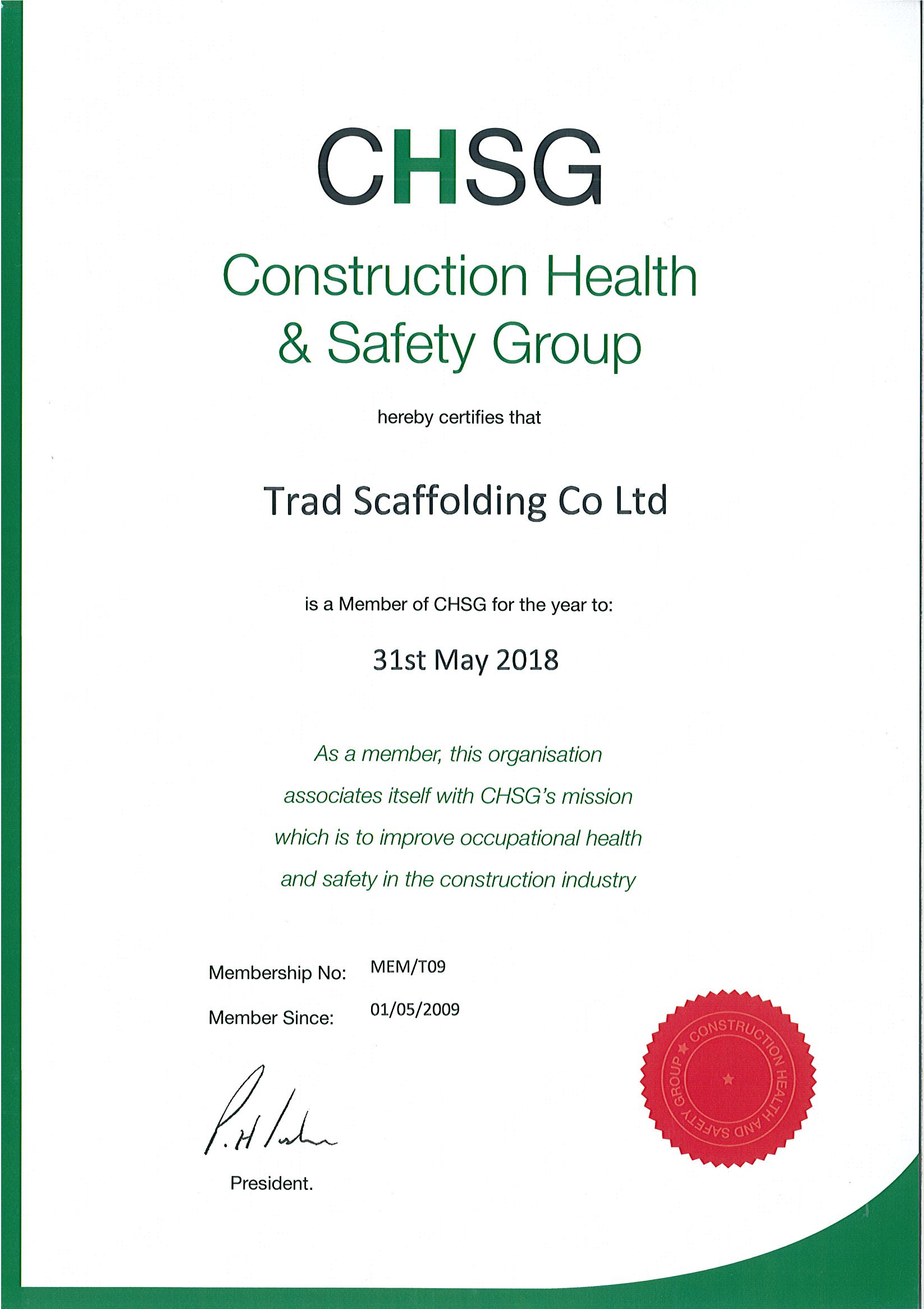 CISRS
The National Access and Scaffolding Confederation (NASC) represent the Scaffolding Employers within the Construction Industry Joint Council (CIJC). The Trade Unions, UNITE and the GMB represent the Employees within the CIJC.
The CIJC has delegated the management and administration of Construction Industry Scaffolders Record Scheme (CISRS) to the NASC. CISRS Ltd fulfils this role on the NASC's behalf.
CISRS Ltd, a not for profit company is responsible for the management and administration of Construction Industry Scaffolder's Record Scheme (CISRS).
Smas worksafe scheme
SMAS Worksafe Scheme demonstrates your Health and Safety competence and is a nationally recognised H&S certificate from a SSIP Member Scheme.
The process is undertaken in line with: The Health and Safety at Work Act etc 1974, The Construction Design & Management Regulations 2007 and The Management of Health & Safety at Work Regulations 1999.
Visit their website for more information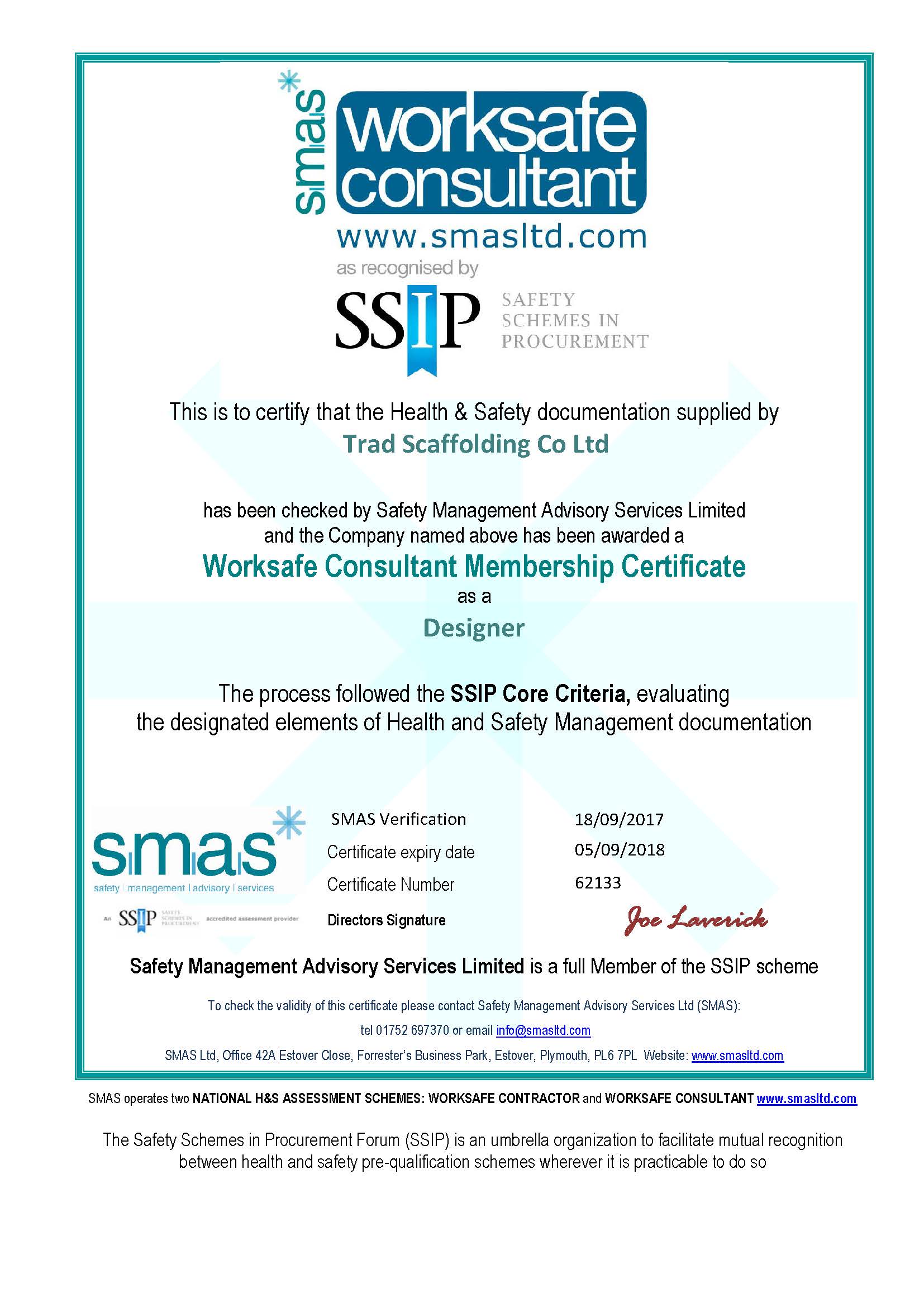 Constructing Better Health (CBH)
This not-for-profit organisation committed to improving the health of the Construction, Building Services and FM sector workforces. CBH is responsible for delivering the National Scheme for the management of occupational health in the construction industry.
"Protecting the health of construction workers is of critical importance to Crossrail and occupational health has a key role to play in identifying and controlling health risks.
Through the adoption of Constructing Better Health standards and the implementation of Crossrail's own occupational health standard we are targeting frontline personnel to ensure they are fit for work and fit for life."
Andy Mitchell, Programme Director Crossrail
Visit their website for more information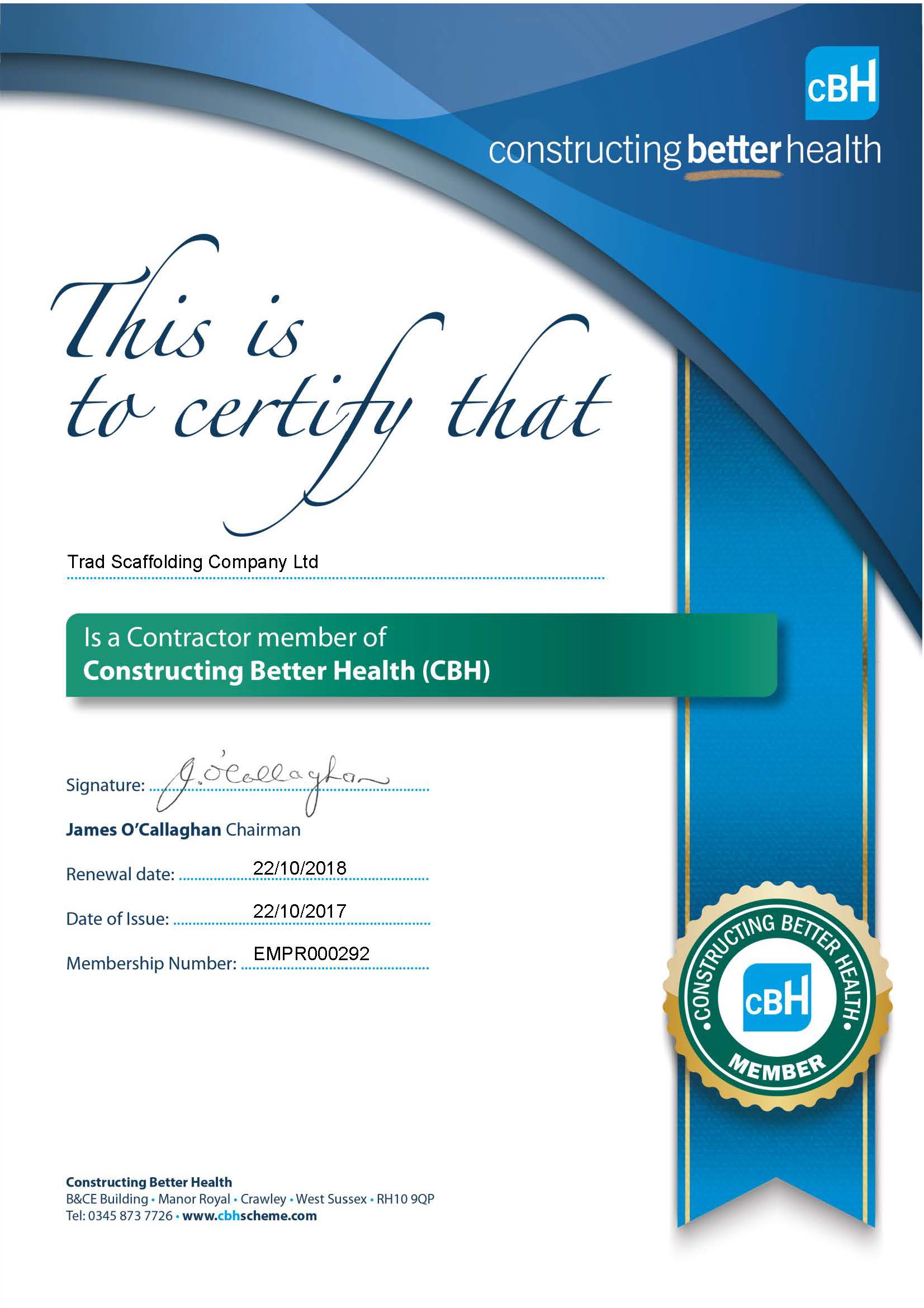 CIRAS (Confidential Reporting for Safety)
CIRAS, the confidential incident reporting and analysis service, operating since 1996 and today delivering assurance for member organisations across the UK.
CIRAS is a independent system. It is governed by the "CIRAS Committee" which consists of representatives from the UK rail industry, Transport for London, UK Light Rail, Trams and other UK transport modes.
Visit their website for more information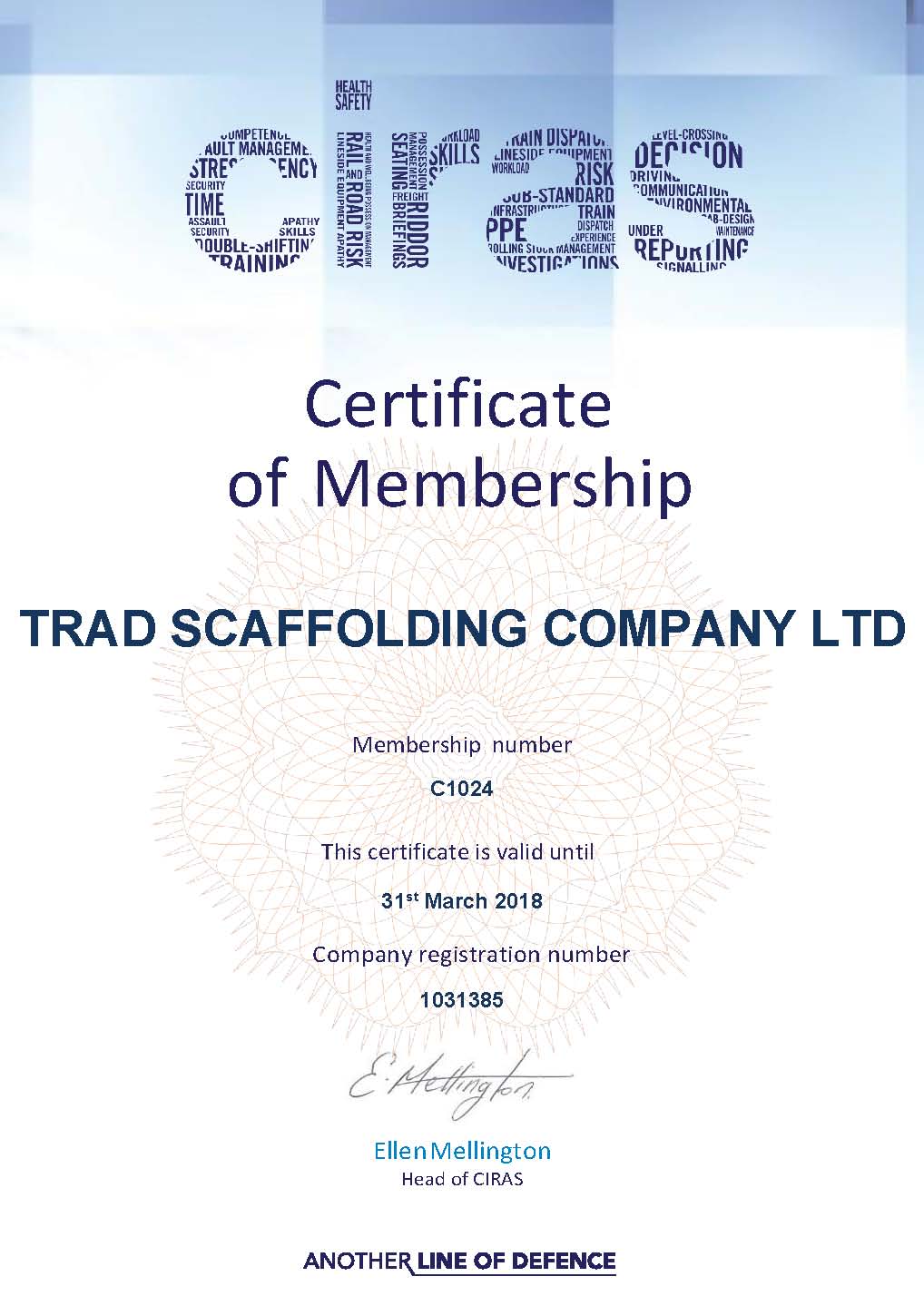 Inspire Me
Construction News has launched Inspire Me to encourage women to seek leadership roles in the construction industry. We aim to inspire future leaders and promote the industry as being gender neutral, welcoming of women in all roles. The principal aim of the campaign is to empower women with the knowledge and confidence to advance their careers to senior positions within the construction sector.
Visit their website for more information