We are affiliates, associates or members of a number of organisations whose activities are relevant to our business.

click the logos to see the certificate
National Association and Scaffolding Confederation
Complies with the requirements of the NASC membership audit procedure and meets the requirements of SSIP through the Deemed to Satisfy Criteria
and is therefore a full contracting member of the National Access & Scaffolding Confederation
Visit their website for more information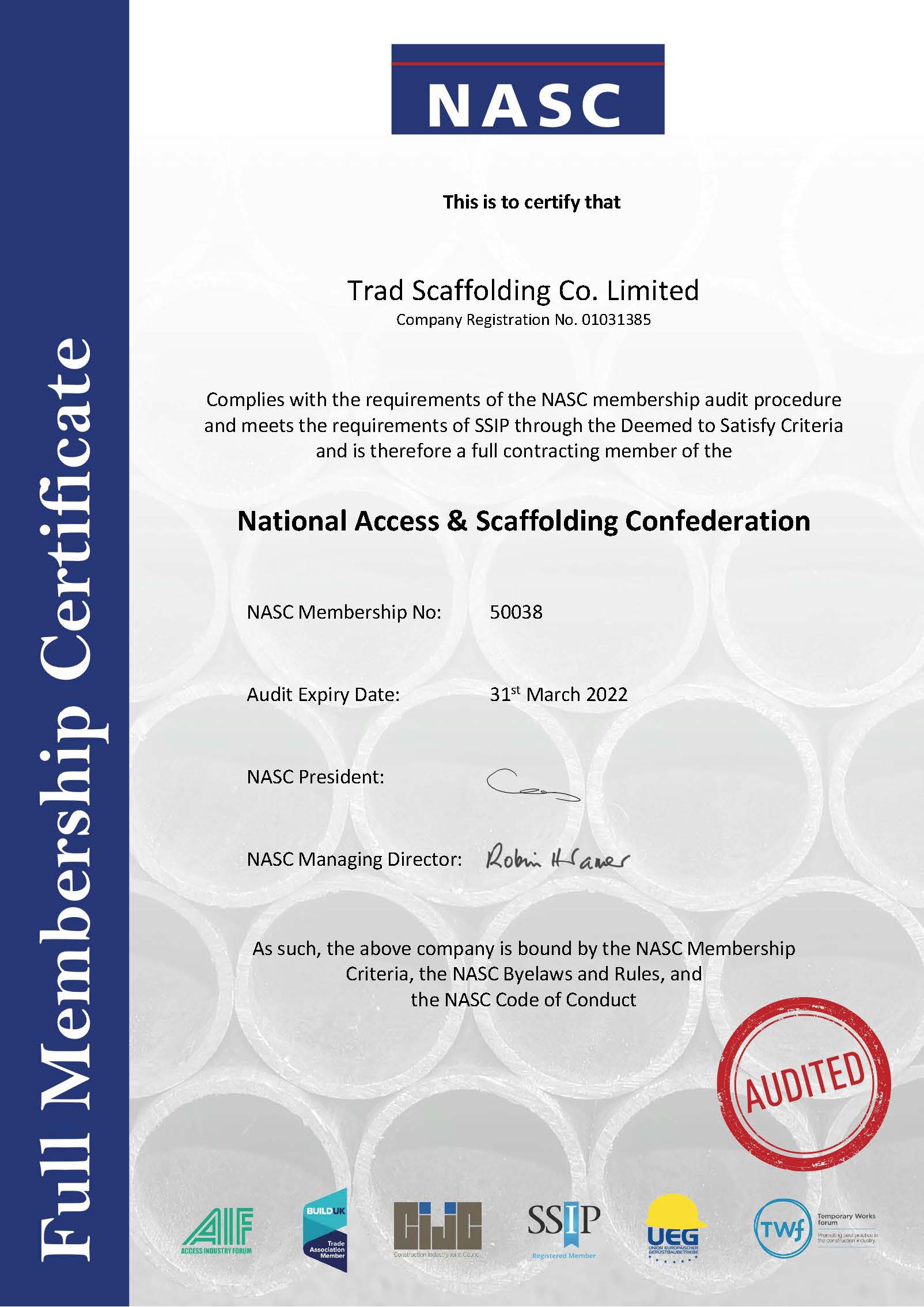 ISO 9001:2015 – QUALITY MANAGEMENT SYSTEM
TRAD has invested in the ISO 9001:2015 standards which verify that our business has a quality management system. This allows us to provide products and services that are consistent and meet customer and applicable statutory and regulatory requirements. The following are just some of the benefits of getting ISO 9001 certification:
• Greater Efficiency and Consistency. Improving the efficiency and consistency of our management processes makes it easy to provide a high-quality service to our customers. It improves our ability to communicate internally and allows different departments within our company to work together to meet customers' needs and expectations.
• Increased Control. ISO 9001 certification requires a high level of documentation that allows our business to have a greater understanding of its processes. This gives us more control and reduces the uncertainty that many of today's companies struggle with when attempting to improve their customer satisfaction rates.
• Establish a Results-Oriented Approach. The ISO 9001 certification is a results-oriented approach to providing the products and services that meet the expectations of our customers. It allows us to identify those areas within our processes that must be improved to increase customer satisfaction levels.
• Addressing risk. ISO 9001 certification focuses on our organization's objectives and priorities while reducing any risks in product liability that can exist in manufacturing and other industries.
• Whilst some companies may believe it too expensive to become ISO 9001 certified, we believe that this is a sound financial investment for the future of our business and that of our customers.
• Improvement in Customer Satisfaction. Many businesses acquire certification and see no benefit. At TRAD, we apply the standards of ISO 9001 in the knowledge that the on-going maintenance of our quality standards will lead to long-term results and improved customer returns.
• The Need for Greater Accountability may be discounted by some companies as a benefit of ISO 9001 certification. At TRAD we believe that this requirement helps us focus on improving the way we operate, how we develop our services and products and provides an opportunity to measure customer satisfaction whilst identifying areas for future development.
Knowing the benefits and opportunities being ISO 9001 certified can bring is the key to getting the most out of our investment and to the continuous improvement of the business.
• When it goes wrong. The implications of NOT using a quality management system will mean that our work culture suffers, the business stagnates and we fail to address the challenges and to take advantage of the opportunities. Relationships with customers is likely to suffer as a result of failing to monitor fluctuations in the market and changing requirements. Failure to adopt a systematic approach will increase the impact of problems and delay responses to customer issues, whilst an inability to identify where resources are most needed will impact adversely on our business management.
These are just some of the reasons why having an ISO 9001 certified QMS underpins our business practices and we believe supports our operations and our customers now and in the future.
Visit their website for more information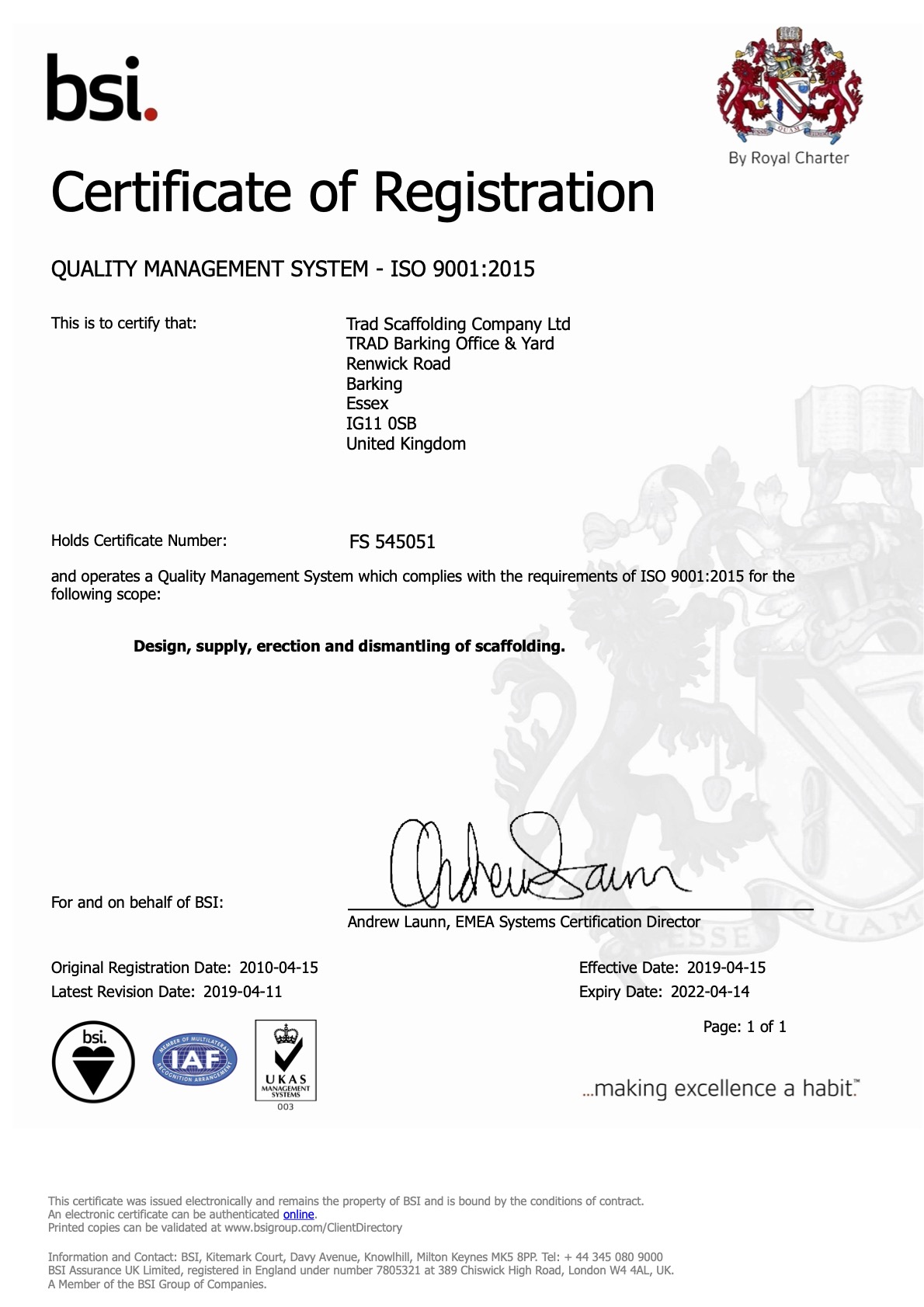 ISO 14001:2015 – ENVIRONMENTAL MANAGEMENT
TRAD have successfully carried out the transition from the old 14001:2004 standard and been accredited, through BSI, to the new 14001 environmental standard: 14001:2015
Visit their website for more information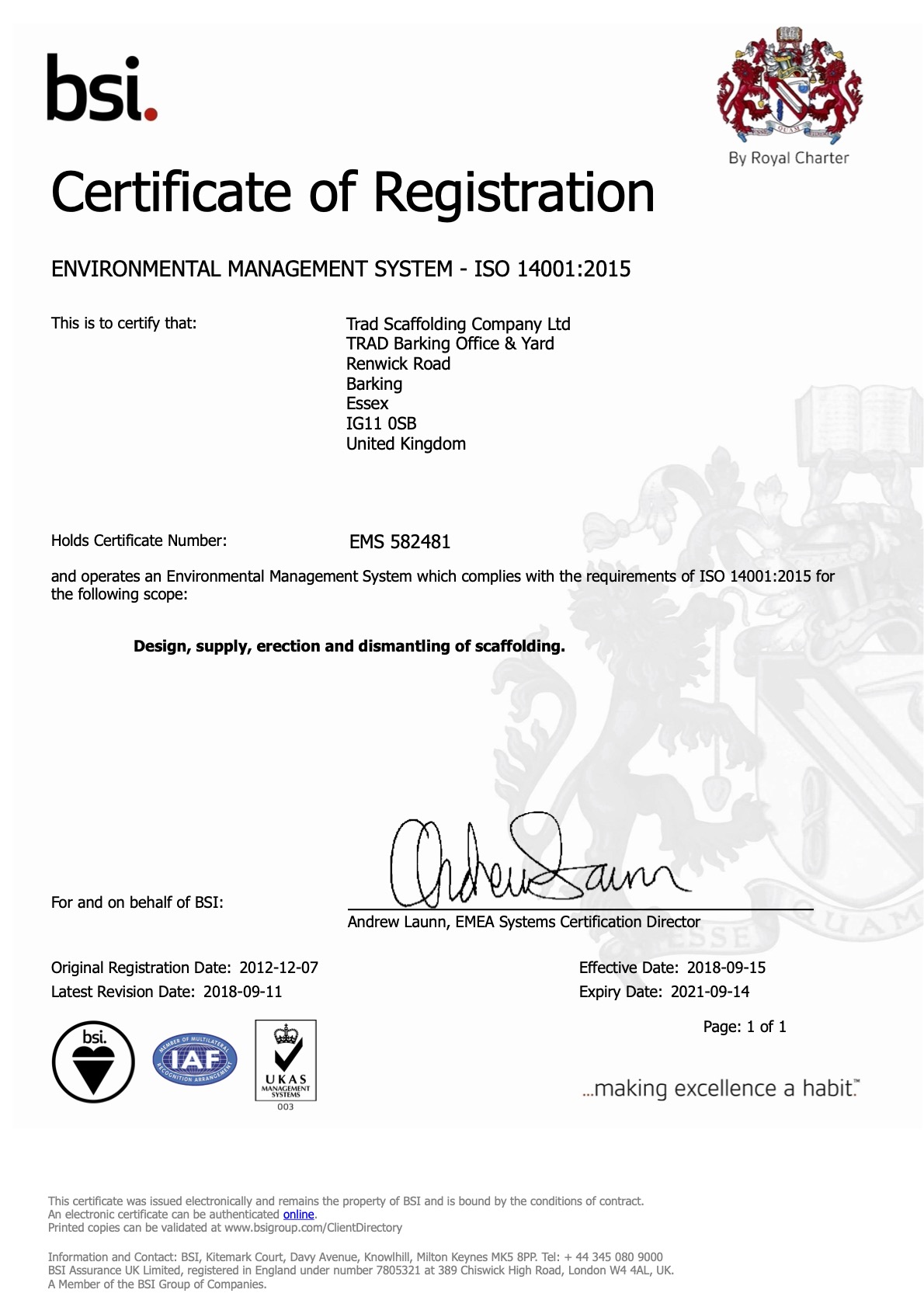 OHSAS 45001 – OCCUPATIONAL HEALTH AND SAFETY
Achilles building confidence
BuildingConfidence is recognised as the standard for supplier excellence within the industry. Major contractors are using the service to evaluate their supply chains, drive up performance and forge longer lasting relationships with key suppliers.
Visit their website for more information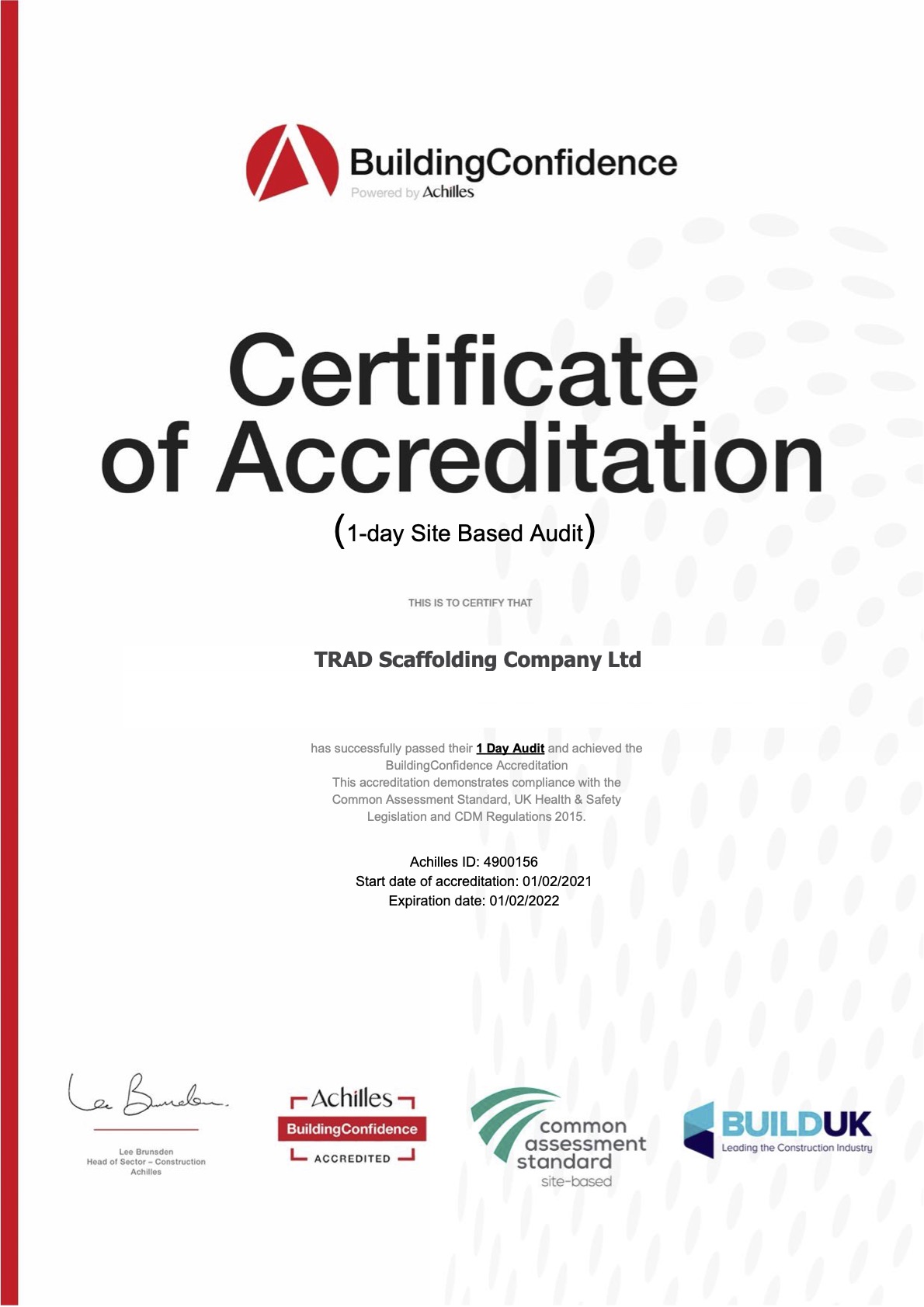 Achilles utilities vendor database (uvd)
The Utilities Vendor Database (UVDB) is operated as a 'qualification system' under article 30 of the EC Utility Directives. Information is gathered about suppliers, e.g. financial performance, health, safety, environmental policy, CSR, products and services data and is checked that it is up-to-date and accurate, and then made available on-line to the buyer.
Visit their website for more information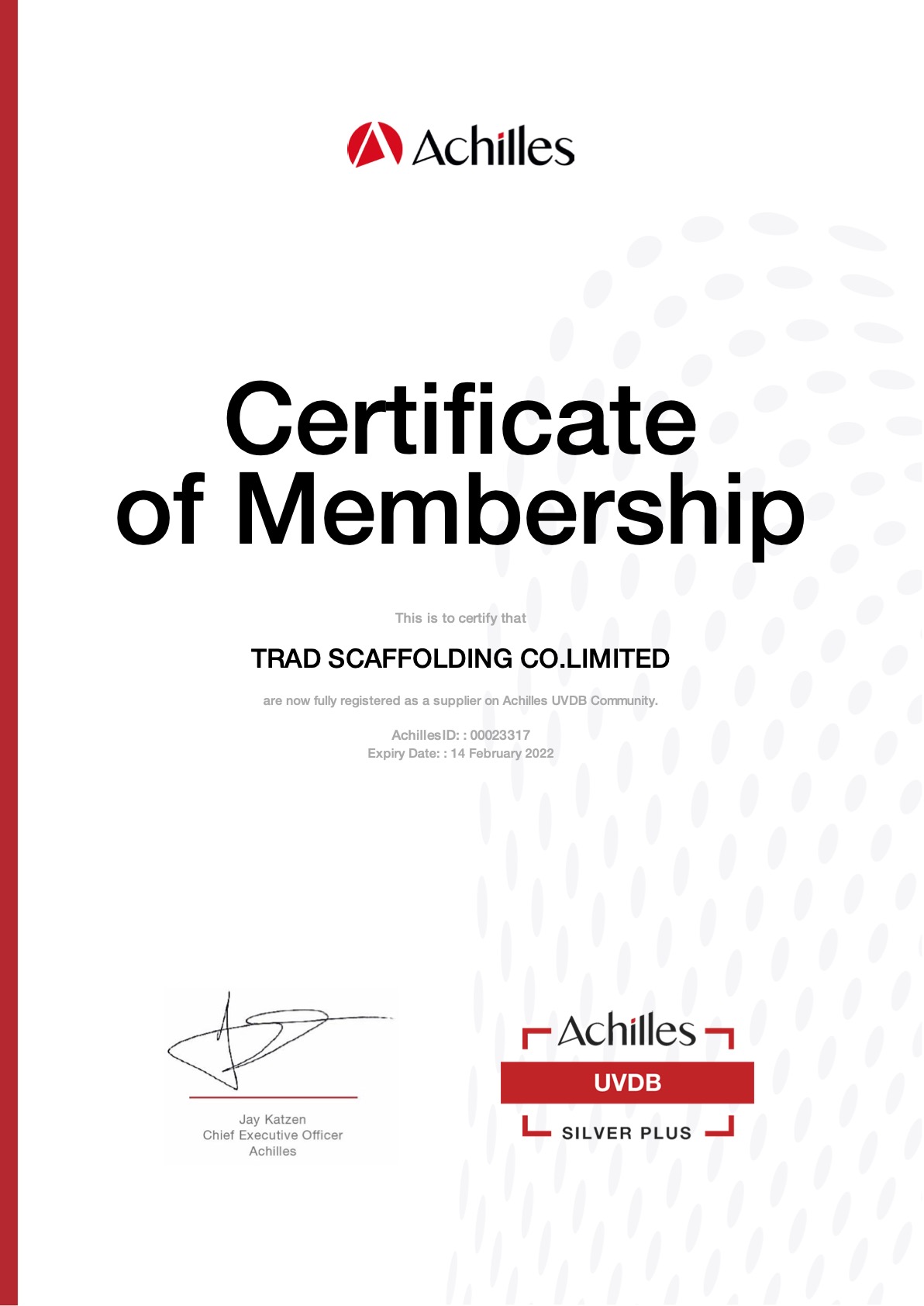 RISQS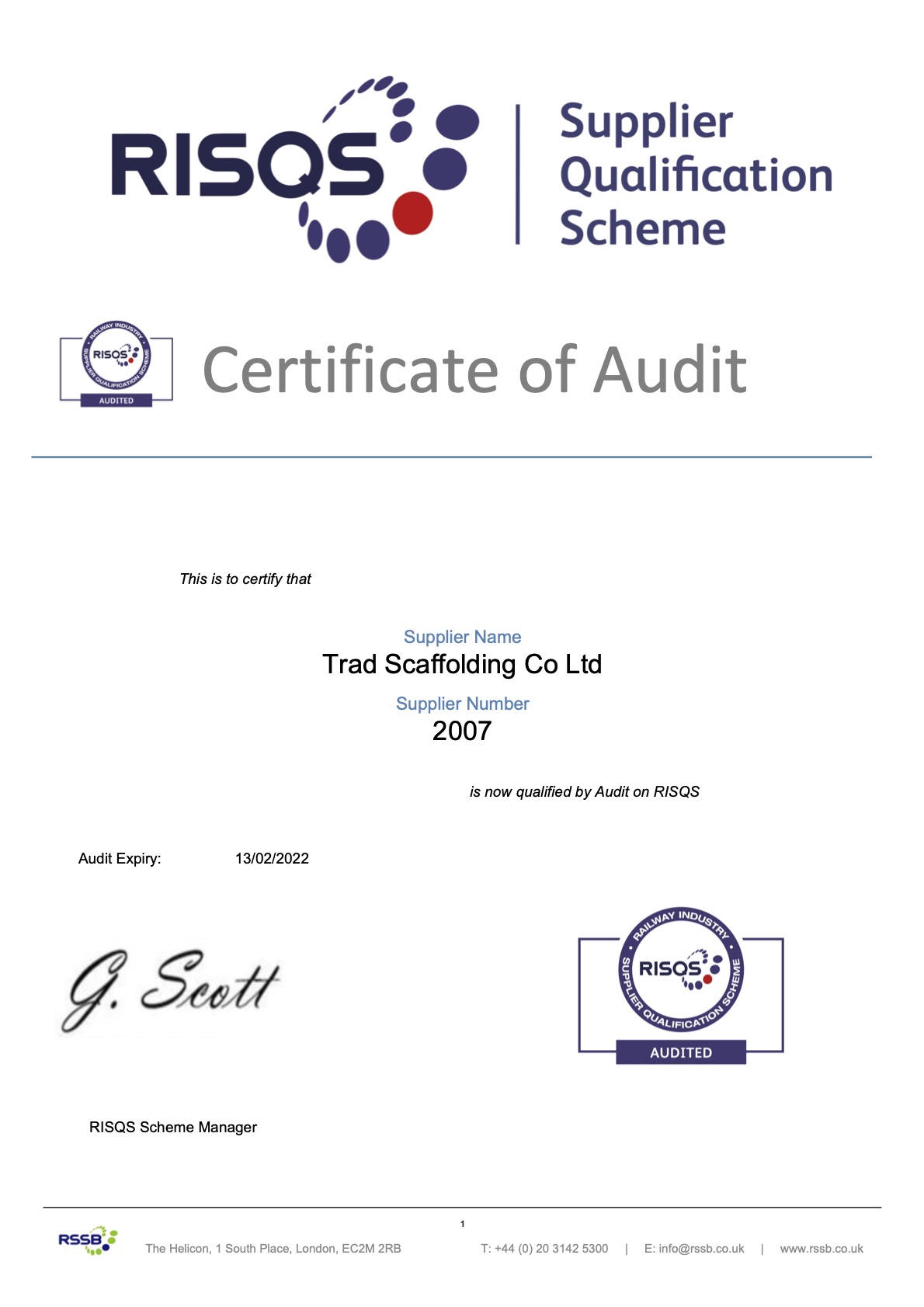 CIRAS (Confidential Reporting for Safety)
CIRAS, the confidential incident reporting and analysis service, operating since 1996 and today delivering assurance for member organisations across the UK.
CIRAS is a independent system. It is governed by the "CIRAS Committee" which consists of representatives from the UK rail industry, Transport for London, UK Light Rail, Trams and other UK transport modes.
Visit their website for more information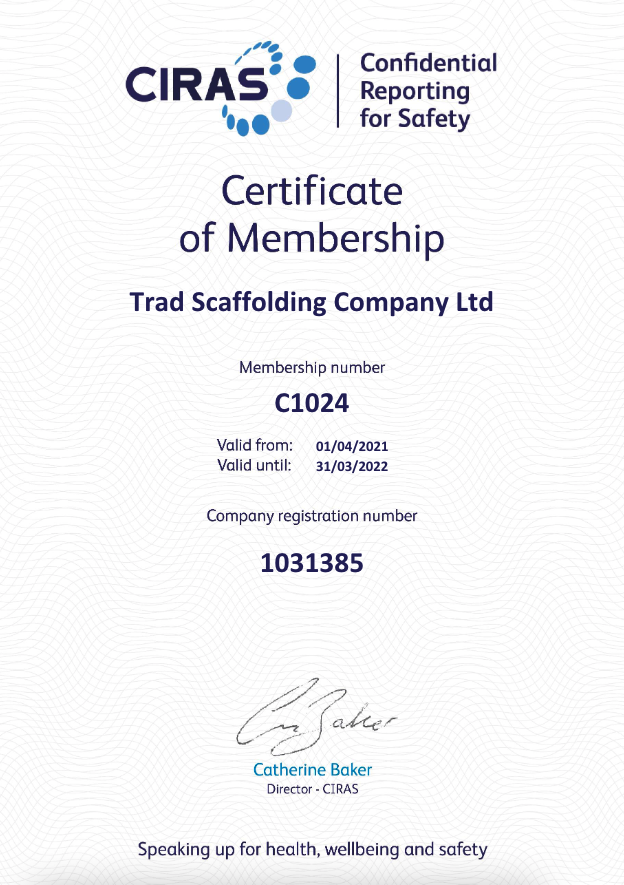 TFL freight operator recognition scheme (fors) silver accreditation
TfL's Freight Operator Recognition Scheme (FORS) is one of the four key freight projects in the London Freight Plan, which was published in January 2008. It is a free membership scheme for any company operating vans or lorries in London that helps freight companies to become safer, lawful, more efficient and more environmentally-friendly.
Visit their website for more information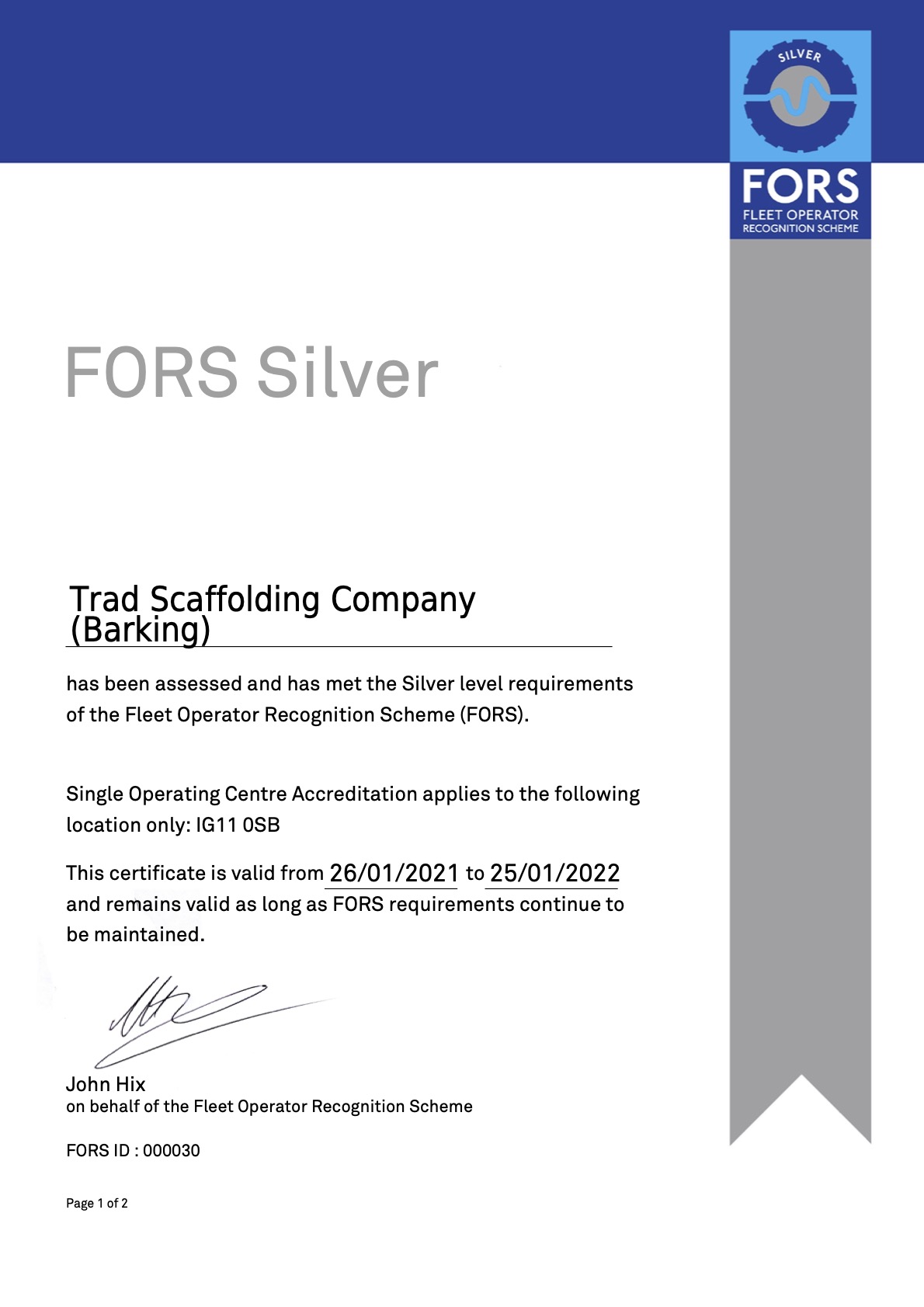 Constructionline
Constructionline is the UK's largest Government-owned register of contractors and consultants for the construction industry. Constructionline standards are high, all suppliers are pre-qualified to the official Government pre-qualified standard.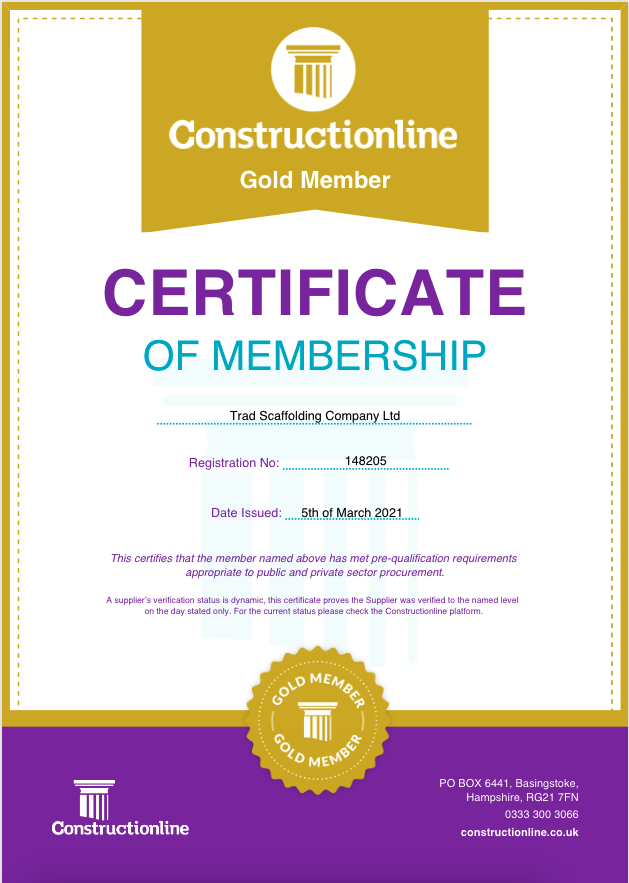 Freight transport association
FTA is one of the UK's largest trade associations and represents the transport interests of companies moving goods by road, rail, sea and air. Boasting a rich heritage, FTA has been supporting the interests of the transport industry since 1889.
Visit their website for more information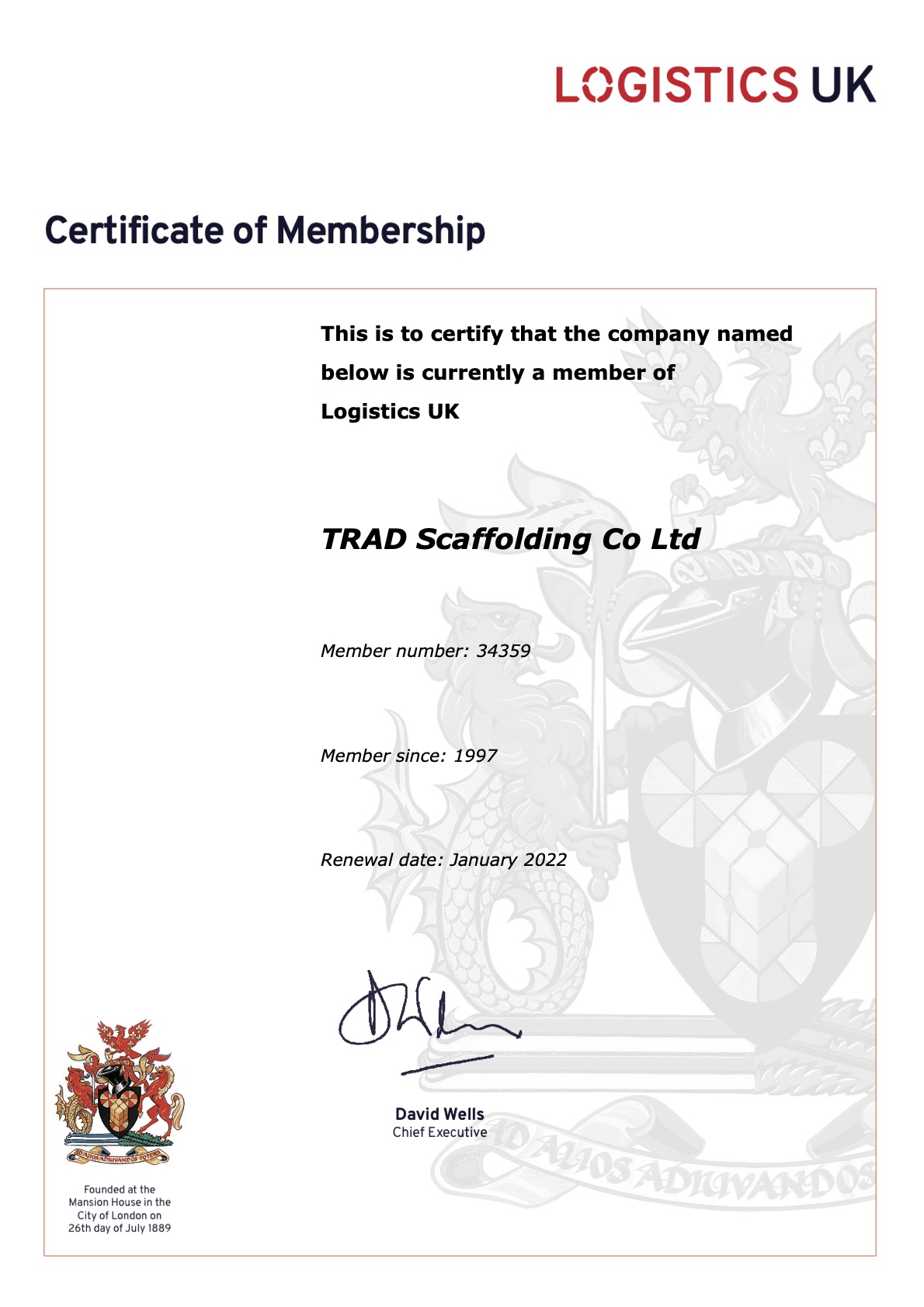 CISRS
The National Access and Scaffolding Confederation (NASC) represent the Scaffolding Employers within the Construction Industry Joint Council (CIJC). The Trade Unions, UNITE and the GMB represent the Employees within the CIJC.
The CIJC has delegated the management and administration of Construction Industry Scaffolders Record Scheme (CISRS) to the NASC. CISRS Ltd fulfils this role on the NASC's behalf.
CISRS Ltd, a not for profit company is responsible for the management and administration of Construction Industry Scaffolder's Record Scheme (CISRS).
Inspire Me
Construction News has launched Inspire Me to encourage women to seek leadership roles in the construction industry. We aim to inspire future leaders and promote the industry as being gender neutral, welcoming of women in all roles. The principal aim of the campaign is to empower women with the knowledge and confidence to advance their careers to senior positions within the construction sector.
Visit their website for more information