MAKING ACCESS EASY

Founded in 1971 and now in our 50th year of trading, TRAD Scaffolding can attribute its continued growth to a refreshingly different approach to client satisfaction.
By dedicating ourselves to excellent service, seeking new ways to deliver efficiency and safety, and ensuring our offering matches clients' ever changing needs – we've earned a reputation for outstanding professionalism and quality. And with 80% of our work resulting from repeat business, TRAD is now one of the largest scaffolding groups in the UK.
Impressive capability
TRAD Scaffolding is repeatedly first choice for many of the most important construction projects throughout the UK. With significant reserves of stock, highly experienced staff and a large resource of trained and skilful operatives, we take on projects of any scale. Considerable ongoing investment means that even with increased demand for our services, we can successfully carry out many major projects simultaneously, to the highest standards.
ALTRAD Invests in Growth

Since joining the ALTRAD Group in September 2013, the TRAD Group has received substantial investments totalling £10 million, resulting in a 70% growth rate to date. With further guidance from the ALTRAD Group's visionary Management Charter 'Pathways to the Possible' the TRAD Group has joined the ranks of the top five scaffolding companies in the UK – with further organic growth yet to come.
Exceptional experience
TRAD combines advanced thinking with expert knowledge. Our Group CEO Des Moore has guided the company for over 25 years, while TRAD Directors have over 75 years' service between them and 100 years' combined experience in the access industry.
Ours is a unique company, forged over 50 years through ingenuity, hard work and professionalism to become one of the largest and most respected scaffolding groups in the UK. Every day we challenge ourselves to be the best that we can be, to act with integrity and impress our clients with the most skilful, safest and productive service available.

Our diversity is a key strength; as invariably there are always some sectors that will be busier and it's not good business sense to be overly reliant on any one area of the marketplace.

The staff and clients are a company's greatest assets so we continually invest in our people, which in turn enable us to build our customer base by being able to deliver excellent service with the aid of our strong plant base.

From our own point of view, as TRAD we are looking to consolidate our position and having come through a significant restructuring exercise we're keen to use this as the foundation for further development.

It's all about organic growth, although we remain open to the possibility of acquiring other businesses that fit our ethos and objectives too.

With the support of the wider Altrad Group, which continues to go from strength-to-strength, TRAD is ideally placed to build further on its already impressive standing within the marketplace to be able to drive continual customer satisfaction.
Des Moore – TRAD Group CEO
buy our reclaimed scaffold boards
We sell mixed bundles of scrap scaffolding boards from 2ft – 13ft lengths (stock levels change daily). The boards are 225mm wide by 38mm deep.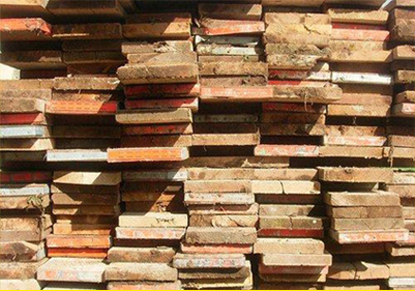 Call Us