Des Moore, TRAD Group CEO, is Inaugurated as NASC President
Our Group CEO, Des Moore, was proudly appointed as President of the NASC last week at their AGM in London. He shared his vision for the future of the industry, and how we can all contribute to make it happen.
In his welcoming speech, Des thanked the outgoing president Alan Lilley for his two years of exceptional service, and noted his contribution to growing the SME membership, also mentoring smaller organisations to achieve compliance with NASC criteria.
He went on to discuss the four key objectives of his Presidency, all of which focused on inclusivity:
1. Increase the pre-requisite for NASC membership by main contractors, developers, and national and local government agencies in tender documents.
2. Strike the right balance between the needs of both large and small companies.
3. Create mentoring and training schemes for all categories of staff, old and young – academically gifted and those not so lucky.
4. Encourage and mentor more women into senior positions both in the NASC and across the industry in general.
Increase the pre-requisite for use of NASC members in tender documents
Des discussed the wider importance of growing the NASC membership, as this would increase the positive influence which the confederation had over the industry, and assist with promoting and achieving core aims, the most important of which was a safer industry. He added that he intended to run a specific and targeted marketing campaign during his two year term as NASC president with a view to promoting the use of NASC members only for all projects, large and small.
Strike the right balance between the needs of large and small companies
He continued by speaking about the need to meet the needs of both small and larger member companies, noting that the voice of smaller companies should be heard and their contribution recognised, but cautioning that the importance of larger members to NASC membership should never be under-estimated. The NASC would be proactive and ensure that it got its message across to all companies, and encourage them to be active within the NASC, noting that the confederation would be improving its communications and marketing with a view to raising the profile of the NASC.
Des stressed the importance of the NASC to the industry, noting that it was a true industry trade body with a rigorous audit process, and high standards for entry and retention of membership. The confederation had a proud record of improved accident statistics over very many years, which had helped to save lives and livelihoods.
Create mentoring and training schemes for all categories of staff
Des then went on to discuss his next objective, outlining his own personal journey within the industry and noting that his lack of personal qualifications had not prevented him from progressing to the role of CEO of the TRAD Group. TRAD Group has a combined turnover of more than £100 million and employs over one thousand people, and is a key subsidiary of the worldwide privately-owned Altrad Group, whose owner and president Mohed Altrad presented the NASC 2017 Scaffolding Project of the Year Award following his speech at the NASC Annual Ball.
Des urged all present to encourage staff and operatives who had few or no academic qualifications to remain in the industry and pass on their knowledge and experience, and provide mentors to help them progress into support functions and management roles within their companies. He stressed the importance of encouraging more young people to enter the industry and represent their companies on NASC committees, noting that greater diversity brought with it new ideas, knowledge and fresh perspectives. This was vitally important given the current CITB re-structuring exercise and the recent decision to outsource all training courses by the latter part of next year. He commended the CITB 'Construction Ambassador' scheme (of which he is a member) and urged those present to consider joining.
Encourage and mentor more women into senior positions in the NASC and the industry in general
In conclusion, Des commented on his objective to encourage more women to pursue careers in the scaffolding sector, and particularly to participate on the various NASC standing committees. He noted that at TRAD, women have been encouraged and mentored and have gone on to excel in senior positions such as surveying and estimating, supervision and contracts management, and are now represented at board level.
In connection with the above, Des then congratulated Lynn Way of Chris Sedgeman Scaffolding Ltd and Chair of the NASC South West and South Wales region, on her appointment to the role of Vice President at the NASC AGM. This is a significant step forward in a predominantly male organisation, and he hoped that it would trigger greater involvement by women on the many and various NASC standing committees and working groups.
Guest speaker Baroness Karren Brady CBE
Baroness Karren Brady CBE was then introduced as the guest speaker at the AGM, noting that she had done much to champion women's interests in business generally. Baroness Brady outlined her own journey in the male-dominated world of football, stressing the importance of having a strong work ethic and determination. She discussed the challenges faced by organisations looking to attract skilled young people into their businesses (and retain them) and offered some pointers which might assist members in achieving this.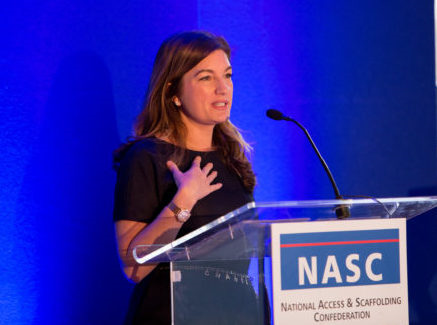 Des then concluded his speech by reiterating the need for members to recognise the abilities of the people in their businesses and give them the opportunities they deserved. He also thanked all those who worked so hard on the various NASC standing committees and Council, and thanked the NASC staff for their tireless efforts and support.