CLIENT: Willmott Dixon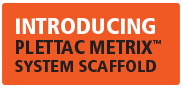 TRAD were successful in bidding for this challenging refurbishment and new build project for Willmott Dixon. Our brief was to design and build a cantilevered tube and fittings, loading and public protection gantry to the perimeter; allowing the large welfare cabins and a 2-ton passenger goods hoist to be situated away from street level.
The external scaffolding is built in the new Plettac Metrix™ system, which has enabled a clear, ledger to ledger brace-free platform, with the flexibility to adapt the inside deck console brackets for window and brick refurbishment, without affecting the integrity of the external framework and sheeting.
The project is currently live and has an exemplary safety record, whilst working within a strict programme, thanks to our onsite team led by Nigel Garner.
---
Just thought I'd write to tell you how pleased I have been with how we have contracted thus far at Mount Pleasant, although it has been tricky at times your team have acquitted themselves really well. I'm looking forward to 2015 and overcoming some more challenges together. Pass on my thanks to all, and know I will promote TRAD's use within our business. 
Oliver Lester – Construction Manager
Willmott Dixon Construction Limited