TRAD Scaffolding Company Limited is a Gold Award Winner in the RoSPA Awards 2014
RoSPA's mission is to save lives and reduce injuries and they have been at the heart of accident prevention for almost 100 years. The RoSPA Awards, which date back 58 years, recognise commitment to continuous improvement in accident and ill health prevention at work.
RoSPA's awards grade achievement at merit, bronze, silver and gold levels. As an organisation that has maintained consistently high standards over the last few years, TRAD Scaffolding Company Limited has now been awarded a Gold merit in recognition of the standards it has reached. The Gold award in this prestigious annual scheme, run by the Royal Society for the Prevention of Accidents (RoSPA), was presented to TRAD Group Managing Director Des Moore, during an award ceremony at ExCeL London on June 17th 2014.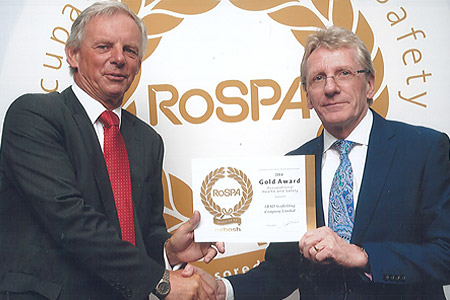 Through the scheme, which is open to businesses and organisations from across the UK and overseas, judges consider entrants' overarching occupational health and safety management systems, including practices such as leadership and workforce involvement.
The RoSPA Safety Awards are internationally recognised and have fast become the most sought after accolade by organisations from every sector. This key fixture in the health and safety calendar offers organisations a prime opportunity for companies to prove their ongoing commitment to raising health and safety standards and to be a part of the longest running and most highly respected occupational safety awards programme.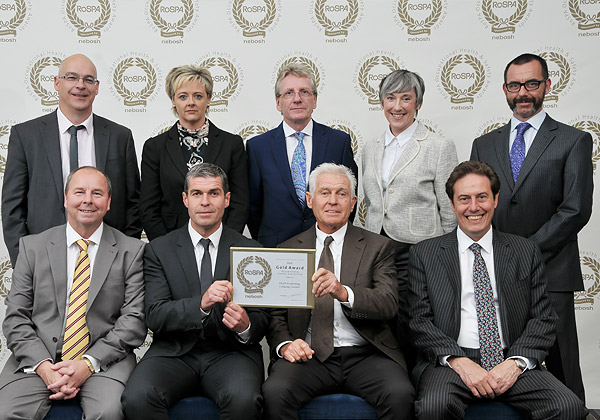 ---
The RoSPA Awards encourage the raising of occupational health and safety standards across the board. Organisations that gain recognition for their health and safety management systems, such as TRAD Scaffolding Company Limited, contribute to a collective raising of the bar for other organisations to aspire to, and we offer them our congratulations.
David Rawlins
RoSPA's awards manager
---
See www.rospa.com/awards/ for more information.