TRAD Apprentice Nominated for NCC Apprentice Awards 2015
Our apprentice Billy Summers (far right) was one of three apprentices nominated for Scaffolding Apprenticeship Year 2 Award from a huge cohort and the photo shows Billy receiving his well-deserved certificate at the NCC Apprenticeship Awards in July 2015, which the National Access & Scaffolding Confederation (NASC) sponsored. Although Billy was pipped at the post, this was still a brilliant result for Billy who is a superb ambassador for TRAD on the Apprenticeship Scheme, with his Apprentice Officer and Instructors speaking very highly of him.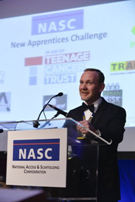 TRAD place over 10% of our workforce on the NCC's apprentice programme and believe that the NCC does a superlative job of teaching apprentices at their colleges, enabling them to achieve far more than they would through other training routes. Since being with TRAD, Billy has developed over the years into a very able scaffolder and he follows a long line of apprentices in our training programme who have achieved their potential through the help of the NCC's Apprenticeship Scheme.
Billy's nomination is a continuation of TRAD's commitment to training and follows on from another TRAD apprentice nomination in 2013, which was coincidentally the same year that NASC President, Kevin Ward – a former apprentice himself – challenged NASC members with the creation of a minimum of 400 new scaffolding apprentices within the NASC member companies during his two-year term as President.
As a long standing member of our trade body, TRAD has risen to that challenge by arranging twenty plus Apprentices every year, and given them the encouragement, resources and assistance to enable apprentices like Billy to thrive and succeed in the scaffolding industry.